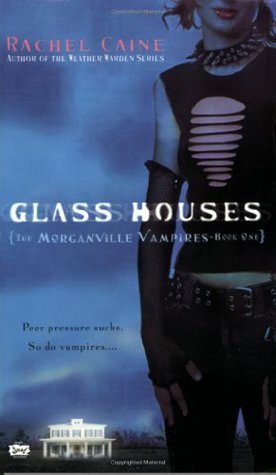 Book Description
From the author of the popular Weather Warden series comes the debut of an exciting new series set in Morganville, Texas, where you would be well advised to avoid being out after dark.
College freshman Claire Danvers has had enough of her nightmarish dorm situation. When Claire heads off-campus, the imposing old house where she finds a room may not be much better. Her new roommates don't show many signs of life, but they'll have Claire's back when the town's deepest secrets come crawling out, hungry for fresh blood. Will she be able to face the town's terror or will she drown like everyone else?
My Review
*SPOILER ALERT*
A quick read but really enjoyable! The characters are believable and the boys are just WOW. It seems a little more grown up to me then some young adult books I've read, which I love. The setting felt
real and seemed everyday life but with an awesome take on vampires. Where they aren't romantically sought after. They are the creatures that fill your nightmares.
So... Claire's enrolled in a college due to her academic achievements (she's something of a genius). She's 16, nearly 17, (which she LOVES to tell everyone, it reminds me of a five year old really). On her first day of school she already got herself on the bad side of the head mean girl, Morgan.
Claire decides she can't live in the dorms for fear Morgan and her friends will end up killing her so she goes looking for somewhere else to live. Upon finding the Glass House, she meets her roommates Shane (sexy), Michael (really sexy) and Eve.
Everything gets real complicated from there in Morganville and most people in the town are the creepy/insane side. Claire, soon comes to the realization that this town is full of vampires and with the help of her new roommates they will have to stick together to stay alive.
Also by the time you finish the first book, make sure you have the second one handy, the cliffhanger is epic!
Favorite Quote
"Damn, Claire. Warn a guy before you do a face-plant on the floor next time. I could have looked all heroic and caught you or something - Shane"
Also what is super cool is the book series now has a web series on youtube! This is the first episode, I don't claim any rights, just uploaded for entertainment reasons. I think they could've done a better job myself. It's still nice to see Michael though and he's the only actor I like. I've been his fan since Holiday in the Sun.