Book Description
Darren, the vampire's assistant, gets a taste of the city when he leaves the Cirque Du Freak with Evra the snake-boy and Mr. Crepsley. When corpses are discovered--corpses drained of blood-- Darren and Evra are compelled to hunt down whatever foul creature is committing such horrendous acts. Meanwhile, beneath the streets, evil stalks Darren and Evra, and all clues point to Mr. Crepsley. Can they escape, or are they doomed to perish in the tunnels of blood?

My Review
*SPOILER ALERT*
To me, this one wasn't quite as good as the first two. Darren, Mr. Crepsley, after a little convincing, Evra leave the Cirque Du Freak after a Vampire General (also Crepsley's dear old friend) arrives with some very dire news. They arrive in a quaint town and stay at a hotel. Mr. Crepsley goes out every
night but tells no one what he's doing. Then six bodies drained of blood are found in a warehouse. Darren thinks Crepsley has went on a killing spree and needs to be stopped. They shadow the vampire and Evra gets caught by the true killer. Can Darren and Crepsley work together to save the snake boy?
This installment in the whole series is my last favorite, which is weird because it actually has a wee bit of romance (I'm a sucker for a sweet romance). The romance is overshadowed though and isn't a gripe if you hate romance. Overall, what I love most about these books, is the action never stops, the pacing is amazing and you can totally knock it out in one day.
Favorite Quote
"When he faced me again, he looked ashamed of himself. "I have gravely underestimated you, Darren," he said. "I will not do so again. I made a wiser choice than I realized when I chose you to serve as my assistant. I feel honoured to have you by my side." - Mr Crepsley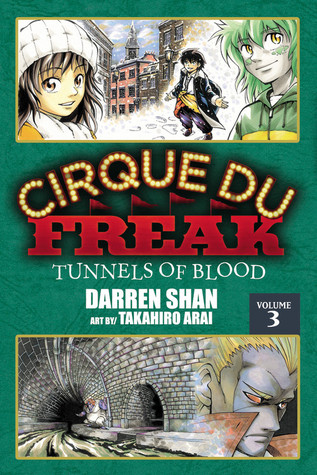 The manga to me in this particular instance was better. Evra is so cutely drawn! Also it seems a little more to the point, where as in the book when they stalked Crepsley was a little redundant.