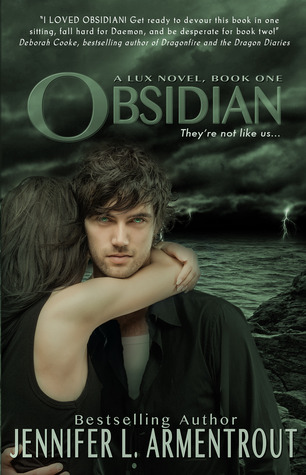 Book Description
Starting over sucks.
When we moved to West Virginia right before my senior year, I'd pretty much resigned myself to thick accents, dodgy internet access, and a whole lot of boring... until I spotted my hot neighbor, with his looming height and eerie green eyes. Things were looking up.
And then he opened his mouth.
Daemon is infuriating. Arrogant. Stab-worthy. We do not get along. At all. But when a stranger attacks me and Daemon literally freezes time with a wave of his hand, well, something... unexpected happens.
The hot alien living next door marks me.
You heard me. Alien. Turns out Daemon and his sister have a galaxy of enemies wanting to steal their abilities, and Daemon's touch has me lit up like the Vegas Strip. The only way I'm getting out of this alive is by sticking close to Daemon until my alien mojo fades.
If I don't kill him first, that is.

My Review
*SPOILER ALERT*
I loved this! It was fast paced and the hot and cold relationship between Daemon and Kat had me in love. Daemon is just wow! I don't usually swoon over book guys but Jennifer L Armentrout makes me every time! First Roth and now Daemon. I wish these guys existed! The writing is smooth and flows perfectly, the pacing is wonderful. Not a single dull moment in this whole book. The characters are believable, I could actually see them living around us.

I don't ever read books about aliens, I just don't like them. This hasn't changed my mind. I won't be looking for other books about aliens unless she writes them. I will most definitely continue this series. I would recommend it to anyone.
Favorite Quotes
"Why are you such an ass?" The words came out before I could think twice.
"Everyone has to excel at something, right?"
"Well, you're doing a great job."
"Beautiful face. Beautiful body. Horrible attitude. It was the holy trinity of hot boys."