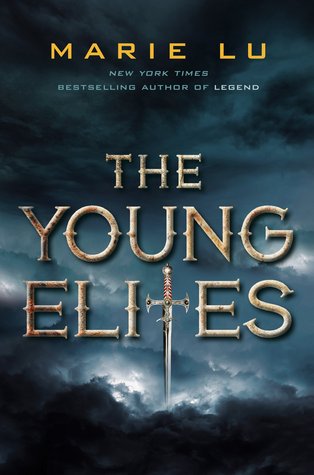 Book Description
to destroy them before they destroy the nation. He believes the Young Elites to be dangerous and vengeful, but it's Teren who may possess the darkest secret of all.
I am tired of being used, hurt, and cast aside.
Adelina Amouteru is a survivor of the blood fever. A decade ago, the deadly illness swept through her nation. Most of the infected perished, while many of the children who survived were left with strange markings. Adelina's black hair turned silver, her lashes went pale, and now she has only a jagged scar where her left eye once was. Her cruel father believes she is a malfetto, an abomination, ruining their family's good name and standing in the way of their fortune. But some of the fever's survivors are rumored to possess more than just scars—they are believed to have mysterious and powerful gifts, and though their identities remain secret, they have come to be called the Young Elites.
Teren Santoro works for the king. As Leader of the Inquisition Axis, it is his job to seek out the Young Elites, to destroy them before they destroy the nation. He believes the Young Elites to be dangerous and vengeful, but it's Teren who may possess the darkest secret of all.
Enzo Valenciano is a member of the Dagger Society. This secret sect of Young Elites seeks out others like them before the Inquisition Axis can. But when the Daggers find Adelina, they discover someone with powers like they've never seen.
Adelina wants to believe Enzo is on her side, and that Teren is the true enemy. But the lives of these three will collide in unexpected ways, as each fights a very different and personal battle. But of one thing they are all certain: Adelina has abilities that shouldn't belong in this world. A vengeful blackness in her heart. And a desire to destroy all who dare to cross her.
It is my turn to use. My turn to hurt.
My Review
*SPOILER ALERT*
Adelina is only 16 and is a malfetto, someone who survived the blood fever and now has markings. Hers are silver hair and that she lost an eye. Her father hates her and loves her younger sister. At the beginning of the book, her father sells her, she finds out and runs away. Her father chased after and she uses powers of illusion that she never knew she had. She is captured. After being held as a prisoner, she is taken to be executed. She barely escapes with the assistance of her powers and The Young Elites.
Enzo is the leader of The Young Elites and also the rightful heir to the rightful King to the throne. Although banned because he was also affected by the blood fever. He plans to take back his throne but something horribly wrong...
I went into this with no expectations whatsoever. I've never read anything else by this author - Marie Lu. I can say I felt bad for Adelina, her father hates her and sells her to a man. That is seriously messed up. It really plays up the saying that the youngest is always the favorite. Adelina's little sister gets everything.
She finally decides that she has had enough and runs away, though everything gets worse from there. She kills her father and almost dies by being burned alive.
She is saved by The Young Elites and taken to their safe haven and slowly begins her training. Teren finds her though and he says he will kill her younger sister if she doesn't help him take down The Young Elites. So our girl becomes a spy to save her sister.
Everything goes wrong from there, people die and there is a pretty big twist that I didn't see coming. It's a book that really stuck with me. It left me thinking about it long after I put it down. I will say it's not a book I will read again though. I loved that the author told a story from the villain's point of view but I just couldn't connect.
Also, I love romance. I have insane love for a book with cute romance. This had a couple kisses and a few feelings. Nothing cute and I don't even see how she could like him when she barely knew the guy!
My final thoughts are simple; I would read this book, but get it from the library or borrow from a friend. I wouldn't waste the money.
Favorite Quotes
"Be true to yourself. But that's something everyone says and no one means. No one wants you to be yourself. They want you to be the version of yourself that they like."


"It is pointless to believe what you see, if you only see what you believe."