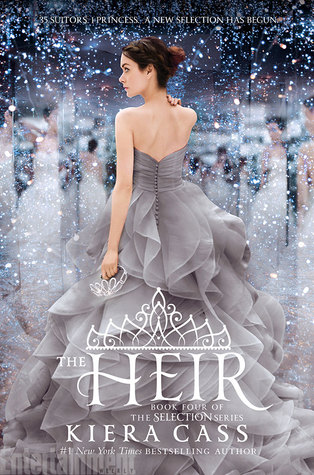 Details:
Release Date: 5/5/2015
Page Count: 368
Format: Hardcover
Published by: Harper Teen
Series: The Selection Series
Number in Series: 4
Description:
Kiera Cass's #1 New York Times bestselling Selection series has enchanted readers from the very first page. In this fourth romantic novel, follow Illéa's royal family into a whole new Selection—and find out what happens after happily ever after.
Twenty years ago, America Singer entered the Selection and won Prince Maxon's heart. Now the time has come for Princess Eadlyn to hold a Selection of her own. Eadlyn doesn't expect her Selection to be anything like her parents' fairy-tale love story...but as the competition begins, she may discover that finding her own happily ever after isn't as impossible as she's always thought.
A new generation of swoon worthy characters and captivating romance awaits in the fourth book of the Selection series! - From Amazon
My Thoughts
*SPOILER ALERT*
Well, I should start off by saying that I'm sure I wasn't the only person who had high hopes for this novel. I mean if you've read the other three and loved them the way I do. I was disappointed by this installment, Eadlyn is no America. This Princess starts out as a spoiled brat whom I wanted a smack every other page. She never thought of anyone else but herself. Her most important things in life were designing dresses and freaking hand massages. She was mean to everyone, even going so far as to feel ashamed for Kile's appearance and how it made her family look to be around that kind of thing.
I almost gave up on this book, I couldn't take much more of her, then enter Kile. I really like him and hope he or Erik wins, I won't be happy with any other. They are sweet and understanding and I love Kile for not being scared to call her out when she is being a bitch, which is a lot.
The plot is pretty much like the first part of the series, only Eadlyn is the first female to hold a selection and the way she goes about it you'd think her parents had demanded she go tap dancing in a mine field. She's rude to the boys and doesn't seem to care an ounce for them.
Slowly though, I watched her change little by little, I still wanted to smack her sometimes but it got better, she got better. I know some people are happy that she isn't as wishy washy as her mother was but I understood why America was that way and I sadly can understand why Eadlyn is such a spoiled brat... though I'm so angry at Maxon and America for raising her to be that way. Her twin brother, Ahren, seemed to be so much better till he eloped. Ugh, this book is a hot mess sometimes and just a plain mess other times, will I be reading the next one? Yes, but only for Kile or Erik, this though is nothing like the first and it makes me so sad.
In honor of her Highness, Princess Bitchy I've decided to do my most hated quotes of the book:
1) "What if you said you were already in love with somebody?"
I shook my head as I poked at my food. "I insulted my three most likely candidates right in front of them."
[...] "Perhaps a guard then? Happens to the maids often enough," she suggested with a giggle.
I scoffed. "That's fine for them, but I'm not that desperate."
2) "My father used to be a Two."
"Is that all?"
Undeterred, he went on. "I think it's pretty impressive."
"Not as impressive as having a father who used to be a One."
3) "Why were you so harsh? For a few you simply said 'no' or flicked your hand."
I tried not to let the worry show on my face. At the time those things had seemed kind of funny.
4)"Kile, could you please go talk to your sister?"
The contentment in his eyes quickly turned to frustration. "Why? What'd she do this time?"
"She's taken yet another one of my tiaras."
"Don't you have, like, a thousand of those?"
I huffed. "That's hardly the point. It's mine, and she shouldn't be wearing it. When she walks around like that, she gives the impression that she's royal when she's not. It's inappropriate."