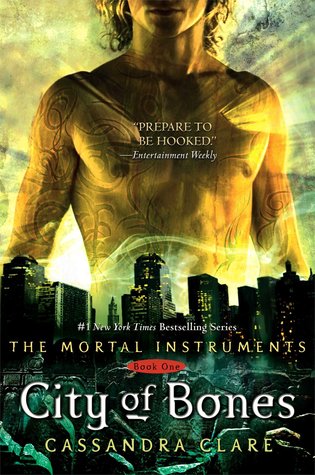 Details
Title: City of Bones
Series: The Mortal Instruments #1
Format: Hardcover
Page Count: 485
Published: 03/27/2007
Publisher: Margaret K. McElderry Books
Author: Cassandra Clare
Description
When fifteen-year-old Clary Fray heads out to the Pandemonium Club in New York City, she hardly expects to witness a murder― much less a murder committed by three teenagers covered with strange tattoos and brandishing bizarre weapons. Then the body disappears into thin air. It's hard to call the police when the murderers are invisible to everyone else and when there is nothing―not even a smear of blood―to show that a boy has died. Or was he a boy?
This is Clary's first meeting with the Shadowhunters, warriors dedicated to ridding the earth of demons. It's also her first encounter with Jace, a Shadowhunter who looks a little like an angel and acts a lot like a jerk. Within twenty-four hours Clary is pulled into Jace's world with a vengeance, when her mother disappears and Clary herself is attacked by a demon. But why would demons be interested in ordinary mundanes like Clary and her mother? And how did Clary suddenly get the Sight? The Shadowhunters would like to know...
Exotic and gritty, exhilarating and utterly gripping, Cassandra Clare's ferociously entertaining fantasy takes readers on a wild ride that they will never want to end.

My Thoughts
*Spoiler Alert*
I first read this series years ago before the third one had even come out and I loved them! They were so fresh and exciting and just wow. I decided to reread them because I got a request wanting me to do a review for the series. Reading them now, being older and all, I still think they are pretty dang cool. But they're not quite as good as I remember. They are dark and gritty and fun with tons of adventure.
Reading it before I would give it 5 stars... reading it now it gets 4. Also after rereading it, the movie wasn't as bad as I first thought. It hits a lot of the important key points... the acting was pretty awful though and Jace was very underwhelming in the looks department but still... I'm very excited for the TV show, anyone else with me?
I did see some of the actors and actresses they got and I don't know... I'm just going to have to wait and see I guess.
I'm very excited the Shadowhunter world is still around and more books are going to be released. I do like the author's writing style, I always have. It's very simple and flows nicely. I'm not even going to tell you guys to read this book because pretty much everyone already has because they are freaking awesome sauce.
So tell me your guys thoughts, are you happy to see the world continue or would you like to see something new from this author?
Favorite Quotes
1) "Have you fallen in love with the wrong person yet?'
Jace said, "Unfortunately, Lady of the Haven, my one true love remains myself."
..."At least," she said, "you don't have to worry about rejection, Jace Wayland."
"Not necessarily. I turn myself down occasionally, just to keep it interesting."
2) "Is this the part where you start tearing off strips of your shirt to bind my wounds?"
"If you wanted me to rip my clothes off, you should have just asked."
3) "Do you remember back at the hotel when you promised that if we lived, you'd get dressed up in a nurse's outfit and give me a sponge bath?" asked Jace.
"It was Simon who promised you the sponge bath."
"As soon as I'm back on my feet, handsome," said Simon.
"I knew we should have left you a rat."
4) "The boy never cried again, and he never forgot what he'd learned: that to love is to destroy, and that to be loved is to be the one destroyed."
5) "Out of the corner of her eye she thought she saw Jace shoot her a look of white rage - but when she glanced at him, he looked as he always did: easy, confident, slightly bored.
"In future, Clarissa," he said, "it might be wise to mention that you already have a man in your bed, to avoid such tedious situations."
"You invited him into bed?" Simon demanded, looking shaken.
"Ridiculous, isn't it?" said Jace. "We would never have all fit."
"I didn't invite him into bed," Clary snapped. "We were just kissing."
"Just kissing?" Jace's tone mocked her with its false hurt. "How swiftly you dismiss our love."
6) "Even in half demon hunter clothes, Clary thought, he looked like the kind of boy who'd come over your house to pick you up for a date and be polite to your parents and nice to your pets.
Jace on the other hand, looked like the kind of boy who'd come over your house and burn it down just for kicks."