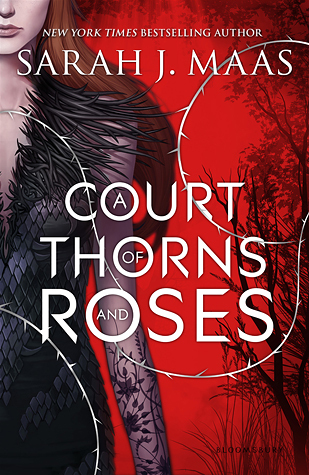 Details
Title: A Court of Thorns and Roses
Author: Sarah J. Maas
Format: Hardcover
Page Count: 416
Release Date: 05/05/2015
Publisher: Bloomsbury










Description
A thrilling, seductive new series from New York Times bestselling author Sarah J. Maas, blending Beauty and the Beast with faerie lore.
When nineteen-year-old huntress Feyre kills a wolf in the woods, a beast-like creature arrives to demand retribution for it. Dragged to a treacherous magical land she only knows about from legends, Feyre discovers that her captor is not an animal, but Tamlin—one of the lethal, immortal faeries who once ruled their world.
As she dwells on his estate, her feelings for Tamlin transform from icy hostility into a fiery passion that burns through every lie and warning she's been told about the beautiful, dangerous world of the Fae. But an ancient, wicked shadow grows over the faerie lands, and Feyre must find a way to stop it . . . or doom Tamlin—and his world—forever.
Perfect for fans of Kristin Cashore and George R. R. Martin, this first book in a sexy and action-packed new series is impossible to put down! - From
Goodreads
My Thoughts
*SPOILER ALERT*
I want to start out by saying that I've never read the other series by this author. The Throne of Glass series... The books always sounded good to me, but my little sister read them and said they sucked.
So this having been my first taste of Sarah's writing, I love it. Everything flows well, sounds nice and has a kind of special way... I don't really know where I'm going with this but I like the way she writes.
Also for the story, it was amazing! I loved everything about it and wouldn't change a single thing. This book is a wild ride of passion and love. But more importantly, it's about a girl who really grows into herself. She is set free from the vow she made to her mother and after that Feyre is actually allowed to be a person and not just spend all her time caring for what at first seems like ungrateful people.
I usually don't feel something for every character in a novel but not this one, I hate and love each one strongly. This author made them feel so real, none of them are perfect and I love that. They have good traits and bad ones, just like everyone else, like us.
I can't say enough how much I freaking love this book, I already went out and bought my own copy after getting halfway through with the copy I borrowed, it was that good.
My only down side to this novel is that it does start out slowly, building the world and characters and such, but once it takes off, it never stops. Also, Tamlin is so hot and strong. How could anyone not fall in love with him? But Rhysand..... I mean... sexy stuff right there. A lot of people have said that it could end up in a love triangle and I am perfectly okay with that! So, if you haven't read this book yet, do it now. You'll love it. For those who have read it, what did you think?
Favorite Quotes
1) "Don't feel bad for one moment about doing what brings you joy."
2) "He brought his lips to my ear. "I would have been gentle with you, though." I shuddered as I closed my eyes. Every inch of my body went taut as his words echoed through me. "I would have had you moaning my name throughout it all. And I would have taken a very, very long time, Feyre."
3) "Do you ever stop being so serious and dull?"
"Do you ever stop being such a prick?" I snapped back.
Dead--really, truly, I should have been dead for that.
But Lucien grinned at me. "Much better."
4) "I love you', I said, and stabbed him."
5) "When you healed my arm...You didn't need to bargain with me. You could have demanded every single week of the year." My brows knit together as he turned, already half-consumed by the dark. "Every single week, and I would have said yes." It wasn't entirely a question, but I needed the answer.
A half smile appeared on his sensuous lips. "I know," he said, and vanished."
6) "What happened to Tomas Mandray?" I asked, the words strangled.
"I realized he wouldn't have gone with me to save you from Prythian."