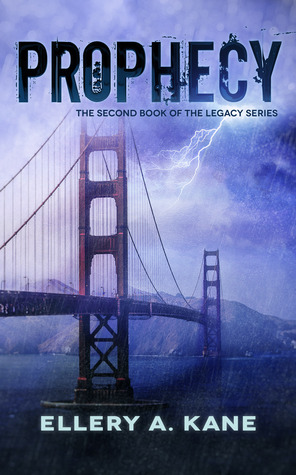 Details
Title: Prophecy
Author: Ellery A Kane
Page Count: 316
Formet: Paperback
Published: 5/29/2015
Publisher: Dog Ear Publishing
Description
Over a year has passed since Lex Knightley journeyed alone into desolate San Francisco. The Guardian Force is disbanded, emotion-altering drugs banned, and citizens allowed to return to the seemingly resurrected city.
For Lex, life is almost normal, but normal is precarious. Normal has a way of falling apart.
One rainy night changes everything. Out on parole, Quin McAllister's father is arrested for the brutal murder of his new wife. As the Resistance resurges, claiming a conspiracy, Lex doesn't know what—or who—to believe. When old enemies resurface in new disguises and trusted friends start keeping secrets, normal splits right down the middle, leaving Lex and Quin on opposite sides.
Prophecy—the second novel of Ellery Kane's Legacy trilogy—continues the story of Lex and Quin, testing the strength of friendship, forgiveness, and love.
My Thoughts/Review
This book wastes no time before jumping right into the plot and action. It's been a year after the events in Legacy when Quin's father is sent back to prison because it looks like he killed his wife. It's left Quin trying to prove his innocence. Lex meanwhile has to deal with trying to decide if he's really guilty or not. A wild ride then begins for our characters, with emotional ups and downs. The book kind of ends sadly and I'm hoping that everything goes well in Revelation.
The characters grow as the story goes on and I love that, because when you go through trying and hards times, it will change you, hopefully for the better. Quin is such a perfect bad boy. I just love him. Though I love most bad boys, what does that say about me? I've no idea.
The chapters in this book are short but stuff like that just doesn't bother me, if anything it helps me get through it faster, telling myself 'just one more chapter' with this book is easy and I've found I read more than I planned at a single setting.
Anyone who hasn't read these books needs to pick them up, they are quick reads that will totally entertain and get you engrossed so deeply, you'll forget about the real world.
Favorite Quotes
1) "Well, you're not alone. You're an honorary member of the Knightly family.
With a fragile smile, Max replied, 'I'm not sure how your dad feels about that.'
'He'll just have to get used to it.'"
2) "Hi, Sexy Lexi -- Thanks for opening the window--- and forgiving me. I love you."
3) "'My point is she's not smart. She's not nice. And most importantly, she's not you. If Quin can't see that, then he doesn't deserve you.' He put his arm around my shoulder. 'Although, they both have tattoos, which apparently makes them soul mates.'"