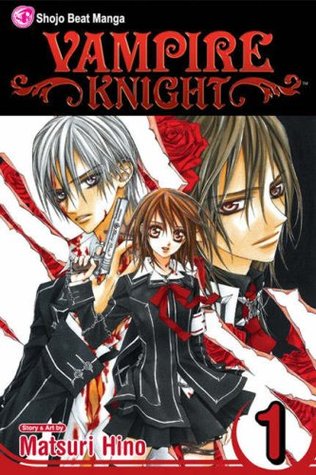 Details
Format: Paperback
Number of Pages: 192
Published: January 9th 2007
Publisher: VIZ Media (English Adaptation)
Blurb
Yuki Cross has no memory of her past prior to the moment she was saved from a vampire attack ten years ago. She was adopted by the headmaster of Cross Academy, and now works alongside Zero to guard the Academy's secret. Cross Adademy is attended by two groups of students: the Day Class and the Night Class. At twilight, when the students of the Day Class return to their dorm, they cross paths with the Night Class on their way to school. Yuki Cross and Zero Kiryu are the Guardians of the school, protecting the Day Class from the Academy's dark secret: the Night Class is full of vampires! - From Goodreads
My Thoughts
*SPOILER ALERT*
This first volume serves as more of a prelude, giving the reader a glimpse of all the characters, showing that Zero is a vampire; turned by a Pureblood who killed the rest of his family. We also get to see just how much Yuuki already loves Kaname and how he cares for her very dear to his heart also. It tells you that Kaname is a Pureblood (not the same one that turned Zero), the most powerful vampire out there. Pureblood's have more abilities than Aristocrats. You see just how loyal all the students are to their Pureblood dorm president, Kaname. No
real
plot follows this volume, but it sets up more when the action and romance really take off in volume two.
The art is amazing, some of the very best I've seen in manga, it's honestly my favorite. Matsuri Hino puts so much detail into evertyhing, even the backgrounds. I've seen plenty of manga artists who skimp of the fine details of such things.
Something I really love is her take on vampires, they are still fierce and powerful without being too far out there. They still have fangs (sexy....) and red eyes. They aren't killed by sunlight but it weakens them and makes them tired. I also thought a good touch was only Purebloods can turn a human into a vampire, makes it seem more realistic to me. Overall, this is an awesome way to start a fantastic series.
This series as an anime! It's totally awesome-sauce, check it out!