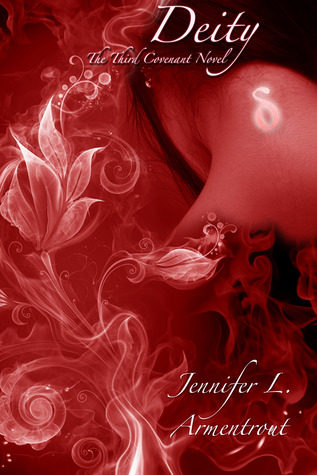 Details
Title: Deity
Author: Jennifer L Armentrout
Format: Paperback
Page Count: 330
Date Published: 11/06/2012
Publisher: Spencer Hill Press
Description
"History is on repeat, and things didn't go so well the last time. "
Alexandria isn't sure she's going to make it to her eighteenth birthday--to her Awakening. A long-forgotten, fanatical order is out to kill her, and if the Council ever discovers what she did in the Catskills, she's a goner... and so is Aiden.
If that's not freaky enough, whenever Alex and Seth spend time "training"--which really is just Seth's code word for some up-close and personal one-on-one time--she ends up with another mark of the Apollyon, which brings her one step closer to Awakening ahead of schedule. Awesome.
But as her birthday draws near, her entire world shatters with a startling revelation and she's caught between love and Fate. One will do anything to protect her. One has been lying to her since the beginning. Once the gods have revealed themselves, unleashing their wrath, lives will be irrevocably changed... and destroyed.
Those left standing will discover if love is truly greater than Fate... -
Goodreads
My Review/Thoughts
*Spoiler Alert*
This picks up a week after the events in Pure, after the furies attacked and Alex killed one. When the rest of the crew return to the Covenant, she gets a letter from Laadan, her father is alive. This throws her into wanting to go back and see him, save him. Throughout the book Alex is struggling with becoming the Apollyon in just a short time. Telly comes to her Covenant and demands she tell him the truth that she killed the Pure but she doesn't. Linard betrays them and Leon turns out to be Apollo! Alex dies and gets to see Celeb and in the end she awakens! Yeah, lots of epic things happen in this book.
I love the romance that Alex and Aiden. What I mean is, I just love Aiden. He's freaking perfect! I know there are some of you that are Seth fans and that's fine. You guys can keep Seth and I'll just keep Aiden all to myself. He's so strong and sweet, funny, and confident without being arrogant like.... you know who I'm getting at... *cough* Seth *cough* I don't like arrogance, it's too much.
I love Jennifer Armentrout's writing, I always have. It's fun, steamy at the right places and God does all that sass and stark just made me laugh and smile. This series is one of my all time favorites and one day I hope to own them all. I mean seriously, if any of you guys have a crazy/insane moment and decide you don't want this series anymore. I'll take them, even pay for postage.
For those that haven't read this book/series, go out and get a copy now! I'm demanding it, you can get it from the library (like me). It's worth the time to read this amazing stuff.


Favorite Quotes
1)
"I know what's happened," Apollo said after a few seconds. My brows furrowed. "What are you talking about?" He nodded at the board. My gaze dropped to the game and I nearly passed out. He'd spelled SEX and AIDEN with those stupid little squares."
2)
"Don't look at me like I've kicked a baby pegasus into the street."
3)
"Aiden had slipped under my skin, wrapped himself around my heart and embedded himself into my bones."
4)
"The Guards in front of the dais turned and froze. Then they scattered like roaches.
Apollo moved up the aisle. "Yeah, that's what I thought."
"I will find you! We're connected. We are one!" Seth was still screaming.
His gaze fell to the god. He sneered. "You want to fight me now, in your
true form?"
"I will fight you in any form, you little punk-ass brat."
Seth laughed. "You can't kill me."
"But I can beat the living snot out of you."