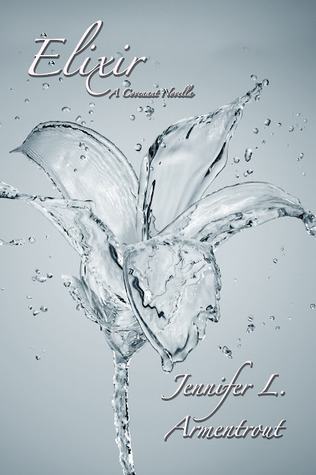 Details
Title: Elixir
Author: Jennifer L Armentrout
Series: Covenant #3.5
Format: Paperback
Page Count: 74
Published: 11/27/2012
Publisher: Spencer Hill Press
Description
Aiden St. Delphi will do anything to save Alex.
Even if it means doing the one thing he will never forgive himself for.
Even if it means making war against the gods.
My Thoughts
This was so refreshing, to see a little snippet into the almost perfect Aiden's head, we get to see how truly hard it was for him to give Alex the Elixir and it also gives more insight into why he said he would never forgive himself. To see Alex this way was so sad and yet... kind of cute in a sick way. I don't know where I'm trying to take this but I enjoyed this novella and wished it was longer.



Favorite Quotes
1)
"I feel it in here," she said, placing her hand against her chest and then against her stomach, "and here. It's like there's not enough air or room inside me. That I may… burst out of my skin or drown in it, and that wouldn't be a bad thing. I don't know why I feel this way, but I always have… and will." She tipped her chin up and her entire face was a rosy color. "It's you. I… I love you."
2)
"Alex, you have to be in there. I know you. My
heart would not be beating if you were truly gone."
3)
"It's just... wow, I'm happy for you. I think this is great. Its love- the real kind you make sacrifices for. The kind where you scream 'screw it' to everyone else. That's envy-worthy."
4)
"The gods wanted war?
They were about to get it."