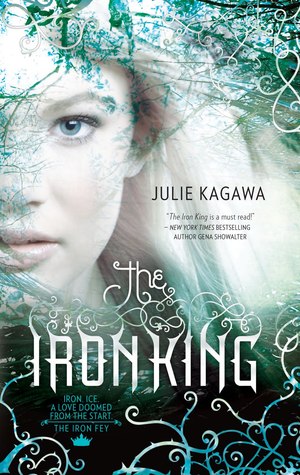 Meghan Chase has a secret destiny; one she could never have imagined.
Something has always felt slightly off in Meghan's life, ever since her father disappeared before her eyes when she was six. She has never quite fit in at school or at home.
When a dark stranger begins watching her from afar, and her prankster best friend becomes strangely protective of her, Meghan senses that everything she's known is about to change.
But she could never have guessed the truth - that she is the daughter of a mythical faery king and is a pawn in a deadly war. Now Meghan will learn just how far she'll go to save someone she cares about, to stop a mysterious evil, no faery creature dare face; and to find love with a young prince who might rather see her dead than let her touch his icy heart.
Details
Title: The Iron King
Series: The Iron Fey
Page Count: 384
Publisher:
Harlequin Teen
My Thoughts/Review
Meghan Chase is just like any normal teenage girl, though she is picked and/or ignored by her classmates, she has only one friend, Rob, though on her sixteenth birthday day, she finds out he is not who she thought he was. He is Puck, the Puck from the stories. He becomes her guide when her little brother Ethan is stolen. Into the Nevernever she goes and comes to find out that she isn't who she thought she was. She is the daughter of the King of the Seelie court and others will want to use her as a pawn. Along the way she meets Ash, the drool worthy Prince of Winter. And through a contract they become allies and even more.
So, this book was just epic, I found myself laughing, screaming (inside my head only), and squealing. There is lots of action as is custom from Julie Kagawa and a tiny bit of romance which I hope picks up more in the following books. I've heard a lot of people say that won't touch this book because it has fairies and they hate fairies but I love fairies and this book was amazing! It didn't start out slow and the characters felt real and were likable (not the bad guys obviously).
This was a great way to kick off a series, how could you not want to pick up the next book with that kind of cliffhanger? You're left dying to know what Ash is going to let happen to Meghan after all they've been through. Will he let his mother, The Queen of Winter use her for her own gain? I can't wait to find out!



Favorite Quotes

1) "Oh, we're playing nice now? Shall we have tea first? Brew up a nice pot of kiss-my-ass?"

2) "Touch her, and I'll freeze your testicles off and put them in a jar. Understand?"

3) "Bravo," said Grimalkin, peering down from Cold Tom's chest. "The Winter prince and Oberon's jester agreeing on something. The world must be ending."

4) "I licked my lips and whispered, "Is this where you say you'll kill me?"
One corner of his lips curled. "If you like," he murmured, a flicker of amusement finally crossing his face. "Though it's gotten far too interesting for that."

5) "Metallic trees. That's new. If you see any steel dryads, be sure to tell me so I can run away screaming."

6) "Knock, knock!" he called in a high, singsong voice.
For a moment, silence. Then a thud and a crash, as if something heavy had been hurled at the door. "Go away!" snarled the voice from within.
"Ah, no. That's not how the joke goes," called Rob. "I say 'knock, knock', and you're supposed to answer with 'who's there?'"
"Fuck off!"
Nope, that's still wrong." Robbie seemed unperturbed. I, however, was horrified at Ethan's language, though I knew it wasn't him. "Here," continued Rob in an amiable voice, "I'll go through the whole thing, so you'll know how to answer next time." He cleared his throat and pounded at the door again. "Knock, knock!" he bellowed. "Who's there? Puck! Puck who? Puck, who will turn you into a squealing pig and stuff you in the oven if you don't get out of our way!" And with that, he banged the door open."