I just want it to be known that if you love these books that's fantastic! Enjoy them for the both of us because I may never read them. But don't think I'm a hater, I have nothing against these books. I dislike those kinds of haters, you know? If you've never even read a book how do you know you hate it? Now if someone has read the book and then hates it, that makes sense to me. Also, to make it perfectly clear, I do not hate
any
of these books. I'm rambling again... here we go!
1) The Fault in Our Stars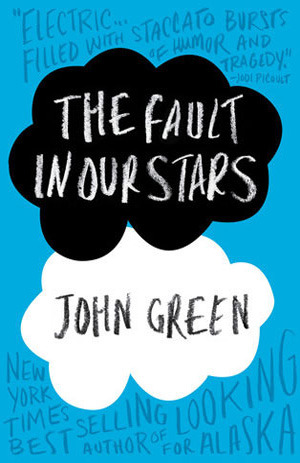 Despite the tumor-shrinking medical miracle that has bought her a few years, Hazel has never been anything but terminal, her final chapter inscribed upon diagnosis. But when a gorgeous plot twist named Augustus Waters suddenly appears at Cancer Kid Support Group, Hazel's story is about to be completely rewritten.
Insightful, bold, irreverent, and raw, The Fault in Our Stars is award-winning author John Green's most ambitious and heartbreaking work yet, brilliantly exploring the funny, thrilling, and tragic business of being alive and in love.
I hate sad books, or things that make me cry. I've cried enough in life it's time for happy thoughts and butterflies and rainbows. I've also never seen the movie and don't want to... Also I've read another of John Green's book and didn't like his writing style but hey, he seems like a cool guy so keep on John Green!
2) The Harry Potter Series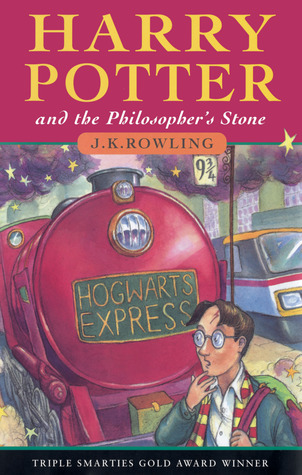 Harry Potter thinks he is an ordinary boy - until he is rescued by an owl, taken to Hogwarts School of Witchcraft and Wizardry, learns to play Quidditch and does battle in a deadly duel. The Reason: HARRY POTTER IS A WIZARD!
I've seen all the movies many many times and love them so much. I grew up in a very strict religion and anything to do with witches/wizards were considered evil or works of the devil. Then when I got out on my own I've still not read them for two reasons:
1) I'm not the biggest fan of young lead characters, I like reading through a character I can relate too and I can in no way ever relate to a really young boy. Though they are a few books I like with male main voices.
2) Harry Potter's age. I can't read a book with a main character younger than 15/16. It's just not for me. I can't relate to a pre-teen because I'm now in my early 20's.

That being said, my boyfriend has been trying to get me to read these lately... so yeah... I'm going to be reading this book this week.
3) Percy Jackson and the Lightening Thief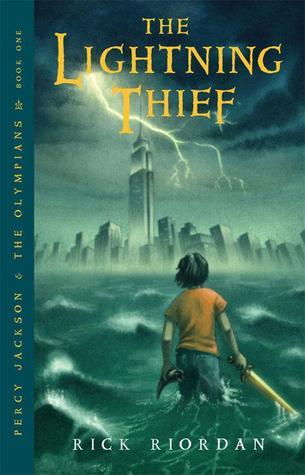 Percy Jackson is a good kid, but he can't seem to focus on his schoolwork or control his temper. And lately, being away at boarding school is only getting worse—Percy could have sworn his pre-algebra teacher turned into a monster and tried to kill him. When Percy's mom finds out, she knows it's time that he knew the truth about where he came from, and that he go to the one place he'll be safe. She sends Percy to Camp Half Blood, a summer camp for demigods (on Long Island), where he learns that the father he never knew is Poseidon, God of the Sea. Soon a mystery unfolds and together with his friends—one a satyr and the other the demigod daughter of Athena—Percy sets out on a quest across the United States to reach the gates of the Underworld (located in a recording studio in Hollywood) and prevent a catastrophic war between the gods.
I've heard so many good things about this series and while it sounds cool I have the same problems with this that I have with the Harry Potter books, but my little sister says it's fantastic and has been driving me crazy to read it, so maybe I'll give in and just try...
4) Cinder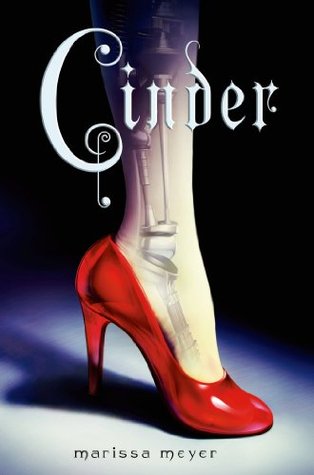 Humans and androids crowd the raucous streets of New Beijing. A deadly plague ravages the population. From space, a ruthless lunar people watch, waiting to make their move. No one knows that Earth's fate hinges on one girl.
Cinder, a gifted mechanic, is a cyborg. She's a second-class citizen with a mysterious past, reviled by her stepmother and blamed for her stepsister's illness. But when her life becomes intertwined with the handsome Prince Kai's, she suddenly finds herself at the center of an intergalactic struggle, and a forbidden attraction. Caught between duty and freedom, loyalty and betrayal, she must uncover secrets about her past in order to protect her world's future.
I'm not a huge fan of robots and androids and space things... though I may honestly give this a try I'm really on the fence, what do you guys think?
5) A Game of Thrones
Summers span decades. Winter can last a lifetime. And the struggle for the Iron Throne has begun.
As Warden of the north, Lord Eddard Stark counts it a curse when King Robert bestows on him the office of the Hand. His honor weighs him down at court where a true man does what he will, not what he must … and a dead enemy is a thing of beauty.
The old gods have no power in the south, Stark's family is split and there is treachery at court. Worse, the vengeance-mad heir of the deposed Dragon King has grown to maturity in exile in the Free Cities. He claims the Iron Throne.
I LOVE the TV show it's so freaking amazing! But I've not had the chance to read these books, I'm honestly debating it because they're so long and it would take me forever to get through. Maybe after I finish my Goodreads yearly challenge.
6) If I Stay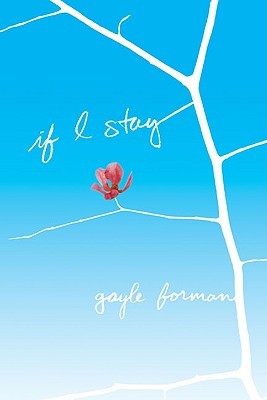 Just listen, Adam says with a voice that sounds like shrapnel.
I open my eyes wide now.
I sit up as much as I can.
And I listen.
Stay, he says.
Choices. Seventeen-year-old Mia is faced with some tough ones: Stay true to her first love—music—even if it means losing her boyfriend and leaving her family and friends behind?
Then one February morning Mia goes for a drive with her family, and in an instant, everything changes. Suddenly, all the choices are gone, except one. And it's the only one that matters.
If I Stay is a heart achingly beautiful book about the power of love, the true meaning of family, and the choices we all make.
I've actually read this one but just didn't like the plot. It bored me. #sorrynotsorry