Alright my little lilies gather around, I've got something really cool in store for this post. But before we dive into the fun let me thank the lovely
Erika from Books, Stars, Writing, And Everything In Between
for tagging me in this. If you want to see her post just click on the link above and go for it.
Here is the way this is going down.
Choose a couple of books that you know a wee bit about or nothing at all about and try to guess what they are about based on the cover and title. The books may be well-known or just familiar to you, but you haven't shelved it on Goodreads or even looked into it. After you are done guessing, compare your guess with the actual description on Goodreads, and see how well or awful you've done. I've chosen 3 books.
My Thoughts
It's about a girl who brings people back to life? Or she's dead herself and comes back as a ghost? She looks strong though, maybe so will fight the people who killed her? Get revenge. I don't know.
Blurb
Rose has reason to celebrate. She just graduated high school, she finally worked up the nerve to ask Roger on a date, and it looks like her family's necromancy skipped her.
But then she finds the corpse of a homeless man behind her brother Ed's restaurant and inadvertently revives him. Not only has she inherited her family's necromancy after all, but it's the most potent form that exists. She wants nothing to do with the magic that drove her father to kill her mother and then himself, and so she refuses to read her family's book of magic or admit that she's anything but normal.
However, her power attracts three lumenancers, or wielders of light, to Albuquerque to kill her. For centuries, they have believed it their sacred duty to wipe out necromancers. Not only are they eager to eliminate Rose, but they want to kill Ed, too, just to make sure he can't pass the magic on.
Rose searches for a peaceful, mundane way to get the lumenancers to leave her alone, but when they threaten Ed, she must embrace her necromancy and all that the book of magic has to teach her.
I suck at this already, but anyway, on we go!
My Thoughts
It looks like it's set in an older time by her hairstyle. She looks dead in the face though, maybe someone killed her? Or hurt her? The rose I don't know but it's a beautiful cover.
Blurb
I am alone in a decaying world, abandoned by the man who stole my memories, yet claimed to love me.
I will journey through the darkest parts of the old world, facing horror and death along the way. A soldier will save me, bringing me to the great walled city of Veracity. I am drawn to him, but he harbors secrets that will change my life.
Relearning the strict rules of the world I was born into will be the easy part. Figuring out I'm more than just a pawn, in a game I can't remember, will be a matter of life and death.
This is why you should never judge a book by it's cover!!!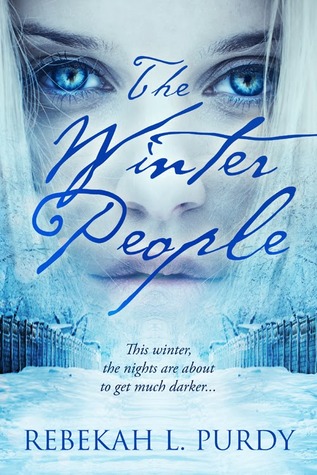 My Thoughts
Winter is bad. It's something that is going to hurt her? She doesn't look scared though, she maybe a fighter? Ready to kill these Winter People.
Blurb
An engrossing, complex, romantic fantasy perfect for fans of Kristin Cashore or Maggie Stiefvater, set in a wholly unique world.
Salome Montgomery fears winter—the cold, the snow, the ice, but most of all, the frozen pond she fell through as a child. Haunted by the voices and images of the strange beings that pulled her to safety, she hasn't forgotten their warning to "stay away." For eleven years, she has avoided the winter woods, the pond, and the darkness that lurks nearby. But when failing health takes her grandparents to Arizona, she is left in charge of maintaining their estate. This includes the "special gifts" that must be left at the back of the property.
 

Salome discovers she's a key player in a world she's tried for years to avoid. At the center of this world is the strange and beautiful Nevin, who she finds trespassing on her family's property. Cursed with dark secrets and knowledge of the creatures in the woods, his interactions with Salome take her life in a new direction. A direction where she'll have to decide between her longtime crush Colton, who could cure her fear of winter. Or Nevin who, along with an appointed bodyguard, Gareth, protects her from the darkness that swirls in the snowy backdrop. An evil that, given the chance, will kill her.
Yeah okay, I suck as this but it was fun! Now I'm going to tag two people. Hope you guys have fun!