I got these book from Half Price Book, Book Outlet, and some free from the authors in exchange for a review. So let's get to the bookie goodness shall we?
I got the paperback.
Gwen's life has been a roller coaster since she discovered she was the Ruby, the final member of the secret time-traveling Circle of Twelve. In between searching through history for the other time-travelers and asking for a bit of their blood (gross!), she's been trying to figure out what all the mysteries and prophecies surrounding the Circle really mean.
At least Gwen has plenty of help. Her best friend Lesley follows every lead diligently on the Internet. James the ghost teaches Gwen how to fit in at an eighteenth century party. And Xemerius, the gargoyle demon who has been following Gwen since he caught her kissing Gideon in a church, offers advice on everything. Oh, yes. And of course there is Gideon, the Diamond. One minute he's very warm indeed; the next he's freezing cold. Gwen's not sure what's going on there, but she's pretty much destined to find out.
The author was nice enough to send me a paperback cop of this book and it's really good. I already got a review up. If you want to check it out click
here
.
What would you do if you lived through the apocalypse? The real fight to survive comes after everyone else is gone.
A plague of epic proportion sweeps the globe, leaving less than one percent of the world's population immune. Among the living is Autumn Winters, the teenage daughter of a famous actress. When Autumn's parents don't come home and the city is overtaken by a dangerous faction, she goes into hiding with a small group of underground survivors. They're led by a mysterious young man who harbors an unearthly secret, and with whom Autumn feels a deep connection.
Autumn in the City of Angels is the first novel in a series, followed by Autumn in the Dark Meadows and Autumn in the City of Lights.
I got the paperback copy of this one myself.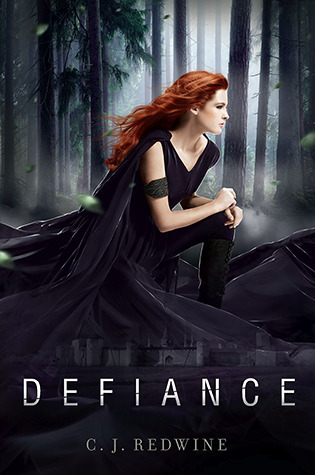 Defiance by C. J. Redwine is rich postapocalyptic YA fantasy perfect for fans of Graceling and Tamora Pierce.
While the other girls in the walled city-state of Baalboden learn to sew and dance, Rachel Adams learns to track and hunt. While they bend like reeds to the will of their male Protectors, she uses hers for sparring practice.
When Rachel's father fails to return from a courier mission and is declared dead, the city's brutal Commander assigns Rachel a new Protector: her father's apprentice, Logan—the boy she declared her love to and who turned her down two years before. Left with nothing but fierce belief in her father's survival, Rachel decides to escape and find him herself.
As Rachel and Logan battle their way through the Wasteland, stalked by a monster that can't be killed and an army of assassins out for blood, they discover romance, heartbreak, and a truth that will incite a war decades in the making.
I got this book free from the author in ebook format... yeah I read ebooks now. Not my favorite format but there are so many books to read and not all are printed. Sadly... but the story is great so far!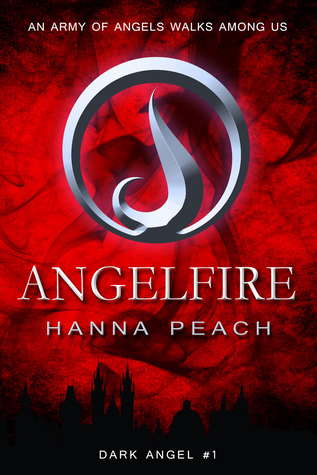 Forget everything you know about angels…
You'll likely find Alyxandria slicing demons with her blades rather than plucking at harp strings. Whether it's with weapons, unarmed or with the "borrowed magics" of distilled angel-blood tattoos, she trains harder than any other Seraphim warrior to prove she is nothing like her parents who abandoned her to become Rogues.
When Alyx starts displaying the signs of a strange new magic, most don't believe her and no one has answers for her. She starts to investigate for herself. The web of lies she uncovers will shatter her world and she'll be forced to risk everything for Israel, a mortal she barely knows.
Alyx and Israel will soon realize that their destinies are inexplicably tied - and that their choices will determine the fate of Earth itself.
It begins in Angelfire.
This one is hardback.
Calla Tor wakes up in the lair of the Searchers, her sworn enemy, and she's certain her days are numbered. But then the Searchers make her an offer–one that gives her the chance to destroy her former masters and save the pack–and the man–she left behind. Is Ren worth the price of her freedom? And will Shay stand by her side no matter what? Now in control of her own destiny, Calla must decide which battles are worth fighting and how many trials true love can endure and still survive.
This is hardback also.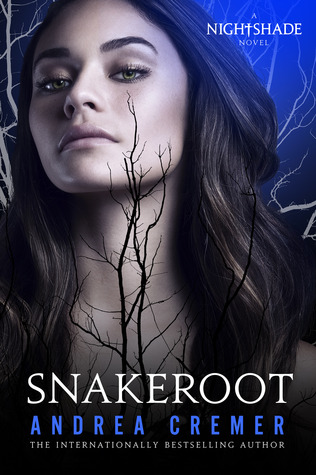 Fans asked for it, and now they've got it!
Andrea Cremer is continuing the story she began in in her internationally bestselling trilogy: Nightshade, Wolfsbane and Bloodrose.
Bosque Mar haunts the dreams of both Adne and Logan, trying to escape for the Nether, where Calla, Shay and the other Guardians trapped him in the final battle in the War of All Against All...
Will he turn Adne to the dark side? Will Logan reclaim his birthright? And will darkness take over our world?
I got these next three at Half Price Book and there are all paperback.
I see him and I know what this turmoil inside of me means: He's the one. My forever.
Kayla is the nature lover, the all-American beauty who can't understand why she's so drawn to distant, brooding Lucas. Adopted as a young child, she has no way of knowing that she's inherited a terrifying-and thrilling-gene that will change her life forever.
Lucas is dangerous, gorgeous... and a werewolf. As leader of the Dark Guardians, shape-shifters who gather deep within the state park, he has sworn to protect his pack. But when Lucas finds his true soul mate, his love could put them all in harm's way.
As Lucas and Kayla struggle with their feelings for each other, a greater danger lurks: Humans have discovered the Dark Guardians and are planning their destruction. Kayla must choose between the life she knows and the love she feels certain is her destiny.
On the night of Skye's seventeenth birthday, she meets two enigmatic strangers. Complete opposites—like fire and ice—Asher is dark and wild, while Devin is fair and aloof. Their sudden appearance sends Skye's life into a tailspin. She has no idea what they want, or why they seem to follow her every move—only that their presence coincides with a flurry of strange events. Soon she begins to doubt not just the identity of the two boys, but also the truth about her own past.
In the dead of a bitingly cold Colorado winter, Skye finds herself coming to terms with the impossible secret that threatens to shatter her world. Torn between Asher, who she can't help falling for, and Devin, who she can't stay away from, the consequences of Skye's choice will reach further than the three of them could ever imagine.
A Beautiful Dark is the first book in a captivating trilogy by debut author Jocelyn Davies.
Everything is in ruins.
A devastating plague has decimated the population, and those who are left live in fear of catching it as the city crumbles around them.
So what does Araby Worth have to live for?
Nights in the Debauchery Club, beautiful dresses, glittery makeup . . . and tantalizing ways to forget it all.
But in the depths of the club—in the depths of her own despair—Araby will find more than oblivion. She will find Will, the terribly handsome proprietor of the club, and Elliott, the wickedly smart aristocrat. Neither is what he seems. Both have secrets. Everyone does.
And Araby may find not just something to live for, but something to fight for—no matter what it costs her.
Alright buttercups, that wraps up this book haul. Tell me blow if you've read any of these and liked them or if you've gotten any new books lately you just want to brag about.