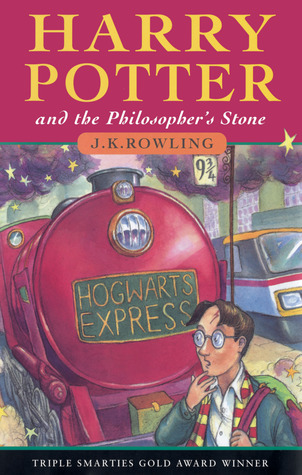 Description
Harry Potter thinks he is an ordinary boy. He lives with his Uncle Vernon, Aunt Petunia and cousin Dudley, who are mean to him and make him sleep in a cupboard under the stairs. (Dudley, however, has two bedrooms, one to sleep in and one for all his toys and games.) Then Harry starts receiving mysterious letters and his life is changed forever. He is whisked away by a beetle-eyed giant of a man and enrolled at Hogwarts School of Witchcraft and Wizardry. The reason: Harry Potter is a wizard! The first book in the "Harry Potter" series makes the perfect introduction to the world of Hogwarts.
Book Breakdown
My boyfriend finally got me to read this book. It was too the point he brought it up into almost every conversation. So I read it. Here is my honest thoughts and feelings.
Harry Potter is just a poorly treated kid. Those Dursleys need to be shot and killed! I think Harry would've been better off with foster parents or something. At least the would've wanted him. Harry is a sweet kid. After much hassle and sadness he finally gets his letter. And he's off to Hogwarts! The greatest school ever. Seriously, I want to go! He meets new friends and even stops the bad guy. Before having to go back to the those awful people.
This book was good. There was an interesting plot and characters and the world. God the world! I wish this world were real! I all of the little details the author put into the world. She really knows her stuff. The reason I give this book 4 instead of 5 stars is because it feels a little rushed and not as well detailed as I would've liked. My boyfriend says it gets better so I can't wait!!!
Favorite Quotes
1) "I
t does not do to dwell on dreams and forget to live."
2) "It takes a great deal of bravery to stand up to our enemies, but just as much to stand up to our friends."