So these are all the books I read this month. I honestly didn't get to read as many as I would've liked. I went through a huge reading slump. I hate those! But The Lux Series got me out of it! So here are the six books I read this month.
1) Angelstone (Dark Angel #2)
After escaping from the Hollows, Jordan takes Alyx and Israel to Aradale, a secret Rogue community, where they appear to be safe − for now. But did they bring the enemy with them? "Mini", the strange and speechless young girl they rescued from the Hollows, is not as she seems. Why was Elder Michael keeping her locked up? What is she hiding?
Out in the mortal cities, pieces of Black Stone, the only material that can disrupt the angels' healing abilities, continue to be stolen to make weapons for Samyara's dark army. Alyx and her friends must stop them, but this means infiltrating holy and guarded places to steal the Black Stone − a monastery in remote China, a mosque in Saudi Arabia, an art gallery in Florence and a cathedral in Peru.
Can they win this deadly race against the Darkened?
2) Forbidden
A shocking, heartbreaking story of taboo romance that's as compelling as it is controversial.
Seventeen-year-old Lochan and sixteen-year-old Maya have always felt more like friends than siblings. Together they have stepped in for their alcoholic, wayward mother to take care of their three younger siblings. As de facto parents to the little ones, Lochan and Maya have had to grow up fast. And the stress of their lives—and the way they understand each other so completely—has also brought them closer than two siblings would ordinarily be. So close, in fact, that they have fallen in love. Their clandestine romance quickly blooms into deep, desperate love. They know their relationship is wrong and cannot possibly continue. And yet, they cannot stop what feels so incredibly right. As the novel careens toward an explosive and shocking finale, only one thing is certain: A love this devastating has no happy ending.
3) Obsidian (Lux #1)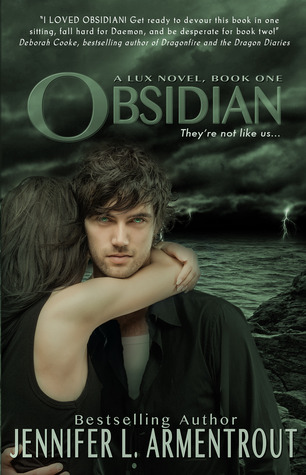 Starting over sucks.
When we moved to West Virginia right before my senior year, I'd pretty much resigned myself to thick accents, dodgy internet access, and a whole lot of boring… until I spotted my hot neighbor, with his looming height and eerie green eyes. Things were looking up.
And then he opened his mouth.
Daemon is infuriating. Arrogant. Stab-worthy. We do not get along. At all. But when a stranger attacks me and Daemon literally freezes time with a wave of his hand, well, something… unexpected happens.
The hot alien living next door marks me.
You heard me. Alien. Turns out Daemon and his sister have a galaxy of enemies wanting to steal their abilities, and Daemon's touch has me lit up like the Vegas Strip. The only way I'm getting out of this alive is by sticking close to Daemon until my alien mojo fades.
If I don't kill him first, that is.
4) Twilight
About three things I was absolutely positive.
First, Edward was a vampire.
Second, there was a part of him - and I didn't know how dominant that part might be - that thirsted for my blood.
And third, I was unconditionally and irrevocably in love with him.
In the first book of the Twlilight Saga, internationally bestselling author Stephenie Meyer introduces Bella Swan and Edward Cullen, a pair of star-crossed lovers whose forbidden relationship ripens against the backdrop of small-town suspicion and a mysterious coven of vampires. This is a love story with bite.
I don't know why but I just felt like rereading this book. It's one of my favorites.
5) Harry Potter and the
Sorcerer's Stone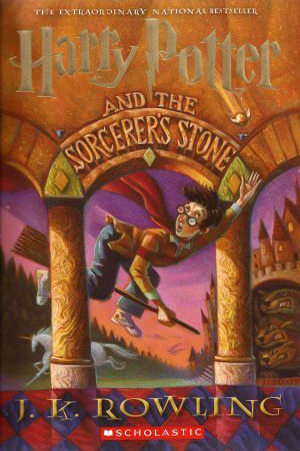 Harry Potter thinks he is an ordinary boy. He lives with his Uncle Vernon, Aunt Petunia and cousin Dudley, who are mean to him and make him sleep in a cupboard under the stairs. (Dudley, however, has two bedrooms, one to sleep in and one for all his toys and games.) Then Harry starts receiving mysterious letters and his life is changed forever. He is whisked away by a beetle-eyed giant of a man and enrolled at Hogwarts School of Witchcraft and Wizardry. The reason: Harry Potter is a wizard! The first book in the "Harry Potter" series makes the perfect introduction to the world of Hogwarts.
6) The Queen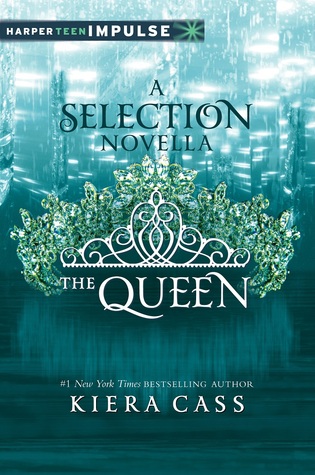 Before America Singer's story began, another girl came to the palace to compete for the hand of a different prince….
Don't miss this digital original novella set in the captivating world of Kiera Cass's #1 New York Times bestselling Selection series. This prequel story takes place before the events of The Selection and is told from the point of view of Prince Maxon's mother, Amberly. Discover a whole new Selection with this inside look at how Maxon's parents met—and how an ordinary girl named Amberly became a beloved queen.
That's it! Hopefully with so many good books coming out this month I'll read more. What books did you read this month?