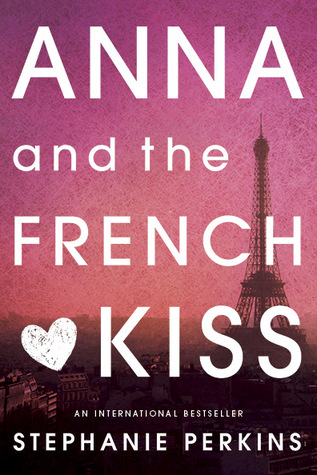 Can Anna find love in the City of Light?
Anna is happy in Atlanta. She has a loyal best friend and a crush on her coworker at the movie theater, who is just starting to return her affection. So she's less than thrilled when her father decides to send her to a boarding school in Paris for her senior year.
But despite not speaking a word of French, Anna meets some cool new people, including the handsome Étienne St. Clair, who quickly becomes her best friend. Unfortunately, he's taken —and Anna might be, too. Will a year of romantic near misses end with the French kiss she's waiting for?
Anna's father decides he's going to send Anna to a international boarding school in Paris. It's her senior year and she wants nothing more than to stay at her high school with her best friend and her crush that works at the local movie theater. Which means stays in Atlanta and not moving to Paris.
Her father (a famous author), won't take no for an answer and her parents fly out with her to the School of America in Paris. Then they leave her. They just leave, it's rather sad actually. Her neighbor -Meredith- from the next room in the dorm welcomes her warmly and they click nicely though Anna still feels lonely without her friends. Though on the way back to her room she meets St. Clair. Little does she know but everything will change for her because of him.
She grows closer to her new group of friends but naturally, to St. Clair more than anyone. It doesn't take her very long to develop a crush on him, even though she still claims to like Toph, the guy from her hometown. We, the readers, can see where this is going though.
When she finally gets to go home for Christmas break (she had to stay in Paris for thanksgiving and that's when she got super close to him), Anna finds out that her best friend is dating her crush. She's brokenhearted and leans more on St. Clair. She figures out she loves him when she comes back from the break and sees him. But, lots of other drama keeps them from getting together, like St Clair has a girlfriend he won't dump and Meredith is in love with him as well.
It's such a fun and cute book. It has it's moments where you just want to scream and tell them to together already! I read this book in very little time, finding I simply couldn't put it down. This is huge for me as I really, really don't like many young adult contemporary novels. I loved this book so much I already ordered the second one and can't wait till it gets here.
I love how these characters, the way they talk, isn't all clean and fake like some authors do. They are real teenagers, there is cussing and they talk about sex. It's refreshing to see as real teenagers act this way. There are no sex scenes so if that's not your thing don't worry.
If you like cute romance with lots of drama this is for you. I would even recommend it to the people like me who don't like young adult contemporary. It's just that good and it's so nice to see glimpses of Paris as I've always wanted to visit.
Have you read this book? If so, let me know below what you thought about it.
1) "For the two of us, home isn't a place. It is a person. And we are finally home."
2) "A moment of reserve. "That was it? The whole story?"
"Yes. God, you're right. That was pants."
I sidestep another aggressive couscous vendor. "Pants?"
"Rubbish. Crap. Shite."
Pants. Oh heavens, that's cute."
3) "Most people in Atlanta don't have an accent. It's pretty urban. A lot of people speak gangsta, though," I add jokingly.
"Fo' shiz," he replies in his polite English accent.
I spurt orangey-red soup across the table. St. Clair gives a surprised ha-HA kind of laugh, and I'm laughing too, the painful kind like abdominal crunches. He hands me a napkin to wipe my chin. "Fo'. Shiz." He repeats it solemnly.
Cough cough. "Please don't ever stop saying that. It's too-" I gasp. "Much."
"You oughtn't to have said that. Now I shall have to save it for special occasions."
"My birthday is in February." Cough choke wheeze. "Please don't forget."
4) "I moan with pleasure.
"Did you just have a foodgasm?" he asks, wiping ricotta from his lips.
"Where have you been all my life?" I ask the beautiful panini."