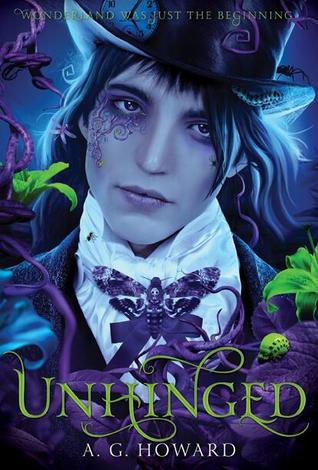 Alyssa Gardner has been down the rabbit hole and faced the bandersnatch. She saved the life of Jeb, the guy she loves, and escaped the machinations of the disturbingly seductive Morpheus and the vindictive Queen Red. Now all she has to do is graduate high school and make it through prom so she can attend the prestigious art school in London she's always dreamed of.
That would be easier without her mother, freshly released from an asylum, acting overly protective and suspicious. And it would be much simpler if the mysterious Morpheus didn't show up for school one day to tempt her with another dangerous quest in the dark, challenging Wonderland—where she (partly) belongs.
As prom and graduation creep closer, Alyssa juggles Morpheus's unsettling presence in her real world with trying to tell Jeb the truth about a past he's forgotten. Glimpses of Wonderland start to bleed through her art and into her world in very disturbing ways, and Morpheus warns that Queen Red won't be far behind.
If Alyssa stays in the human realm, she could endanger Jeb, her parents, and everyone she loves. But if she steps through the rabbit hole again, she'll face a deadly battle that could cost more than just her head.
Book Breakdown
*SPOILER ALERT*
A year has passed since Alyssa Gardner came back from Wonderland. A year since she chose her human half. She wants nothing more than a normal human life. Nothing more than to graduate high school, go to prom and then an art college in London with her boyfriend Jeb.
Wonderland nor Morpheus, just won't leave her alone. Dreams that involve the destruction of the place she left behind plague her. Morpheus also showing up in the human realm doesn't help. He is trying to get Alyssa back to Wonderland to save it from Red.
Alyssa doesn't know how much more she can take. First her overprotective mum and now the man she tried to leave behind. Not to mention she's been lying to her human boyfriend the past year about who she really is.
But when Wonderland begins to take over the human world, Alyssa will have to stand and fight once more with a new ally at her side. More secrets unraveled and new twists and turns makes this book an excellent squeal.
The reason I knock off half a star is Jeb. More and more, I find myself disliking him. In the beginning of the book, in some (most), parts. He seems to care more about his work than Alyssa. I know, I get that he wants to prove he's not worthless. He wants to be better than his father. That's great, but don't forget what's really important in the process which I think he does.
I've been a huge Morpheus fan since the start of the very first book and I think he gets even better in this book. I just wish that he'd had more scenes. I also wish we could see more of the future where he and Alyssa had that cute little kid. That would make my fangirl heart very happy.
I've still never read the last book but I know who she gets with and it's always what has made me leery to jump into it. Though I am finally going to finish it as I can't wait for the companion novel coming out soon. I will be doing a giveaway for that book so keep an eye on that in later December.
Overall, I love this book. The characters are very well written and the description is so rich it's easy to see Wonderland, even if they stayed in the human world this time. The twists and turns always kept me flipping the pages (also if I'm honest, I'm hoping for another scene with Morpheus. If you want a lovely dark series with lots of romance and action, snag this!
Favorite Quotes
1) "Of all the times you've undressed me in my fantasies, I never remember feeling this... unfulfilled."
"Please, Morpheus," I beg upon hearing Jeb stir in the background.
"Ah, but those delectable words," Morpheus says with a provocative smirk, "those are always in the fantasy."
I glare at him. "You're unbelievable."
"And that sentiment is reserved for the end."
2) "He puts it on, and his gaze locks to mine. His jewels flicker between passion and defiance—an evocative and intimidating combination. "Fair warning, I intend to make good use of that time. I will be gentle, but I will not be a gentleman. You will be the center of my world. I'll show you the wonders of Wonderland, and when you're drunk on the beauty and chaos that your heart so yearns to know, I will take you under my wings and make you forget the human realm ever existed. You'll never want to leave Wonderland or me again."
3) "Shh." I squeeze his hand. His palm feels clammy. "We have to keep it down, okay? We don't want my dad coming in."
He grits his teeth against more shivers. "Always knew I'd end up in your bed . . . and hear you say those words one day." He manages a smirk.
Jeb snarls. "Unbelievable. Even when he's at death's door he's a tool." He arranges a pillow beneath Morpheus's neck. "Why don't you keep your mouth shut while we help you."
Morpheus laughs weakly, his skin flashing with blue light. "What say Alyssa"--his breath rattles--"give my mouth something else to do?"
Don't forget to enter the Giveaway if you haven't already! Just click the little tab right under the header that says Giveaway!