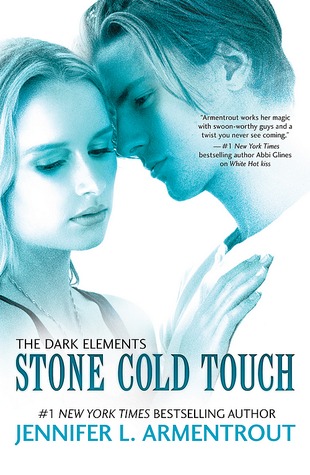 Every touch has its price
Layla Shaw is trying to pick up the pieces of her shattered life—no easy task for a seventeen-year-old who's pretty sure things can't get worse. Her impossibly gorgeous best friend, Zayne, is forever off-limits thanks to the mysterious powers of her soul-stealing kiss. The Warden clan that has always protected her is suddenly keeping dangerous secrets. And she can barely think about Roth, the wickedly hot demon prince who understood her in ways no one else could.
But sometimes rock bottom is only the beginning. Because suddenly Layla's powers begin to evolve, and she's offered a tantalizing taste of what has always been forbidden. Then, when she least expects it, Roth returns, bringing news that could change her world forever. She's finally getting what she always wanted, but with hell literally breaking loose and the body count adding up, the price may be higher than Layla is willing to pay…
Author: Jennifer L Armentrout
Series: The Dark Elements
Number in Series: 2
Format: Paperback
Genre: Paranormal, Romance, YA
POV: First Person
Publisher: Harlequin Teen
Published: October 21st 2014
This installment picks up just a few weeks after Roth has sacrificed himself at the end of White Hot Kiss. Layla's really hurting after that loss. Roth is trapped in the pits and she doesn't know if she will ever see him again. There was no need to worry though as Roth shows up, at the Warden's house no less.
He tells them all that they failed and a Lilin has in fact been born. They will have to work together in order to stop the Alpha's from wiping them all out. So, they enter into an unlikely truce, until the problem is taken care of.
A Lilin can take a soul with just one touch and they need to see who has been effected. There's one MAJOR problem though... Layla can't see souls anymore! Her abilities are going wonky when she needs them the most! Not fun times!
Roth turns cold to Layla and pushes her away. Telling her that she was just a fun distraction to him. This in turn makes her move closer to Zayne. Her childhood best friend. They grow closer and even take their relationship to the next level. Yet, she still finds herself drawn to Roth. Wonder why...
Layla begins to believe that there is no Lilin and that she's the one who's causing all this to happen. After all, her powers seem to be changing. She even kissed Zayne a few times without taking his soul. Even the insane Church of God's Children hate her. They threw Holy Water on her to prove a point and that's how her best friends found out about her. Which is fine by me as I happen to love Stacey.
Though it couldn't last forever and she does take a part of Zayne's soul when she kisses him for the last time. Abbot's pissed and locks her in a cage. They keep her drugged and then stab her with an iron blade. She is going to die at their hands until two awesome Warden's decide to do the right thing and warn Roth. He saves her and takes her someplace safe. Oh, Roth I love you. Sorry off track there. I went into fangirl mode.
Roth gets the witches who worship her mother to give her something that will save her. Only he has to promise something huge in return. We don't find out what he has to give up until the last book. Layla lives and she decides that she can't go back to her room in the Warden's place. She does get to visit Stacey and it's here that the Lilin is revealed!
I saw this coming a mile away. It honestly got to the point where I wanted to smack Layla and tell her to open her eyes. To quit being torn between Zayne and Roth. She should've seen this coming. The signs were all there. He was just changing way too much.
Now the boys. Zayne.... I don't hate him but he's just not my type. He's too overbearing. He's too good. He's also rather annoying. I just can't.... He's a great character and all but there is just something about him that rubs me the wrong way. Am I alone in this?
Roth. Roth! ROTH! Do I really need to say more? Yes, he's an ass in the beginning of the book but he had good reasons and you even find those reasons out in the end. He also loves Layla so much it's just the most adorable thing ever.
The writing as always is just awesome sauce. No one writes better dialogue than JLA. It's so witty and makes me laugh. I enjoy her books so much. The banter just gets to me. I even have my partner saying some of the things she has written.
Overall, great plot, characters, Roth, writing, romance, Roth, humor, action and Roth.
1) "I love you Layla. Do you hear me? I've loved you since the first moment I heard your voice and I will continue to love you. No matter what. I love you."
2) "You're a pervert," I said, fighting a grin.
Roth shrugged. "Of all the things someone could call me, that's hardly the worst."
"And probably the most true,"
3) "Maddox hissed. "You think you're cute?"
"Nah, I think I'm sexy." The smirk spread, but it didn't reach his cool ocher eyes. "And I also think I'm hilarious."
4) "I want you so badly it's like a hunger that gnaws at me endlessly. It doesn't go away … You have no fucking clue."
"Then do something about it," I whispered."
5) "I was the last person on the face of the Earth to help when it came to the opposite sex.
I'd only kissed one boy in my entire life.
And he'd been a demon.
So..."
6) "He looked up grinning. This one is Bluebelle and that one, he gestured at the one that smelled my leg, is Flower.
I made a face. What is with you and the movie Bambi? He stood up fluidly. It's an American classic."