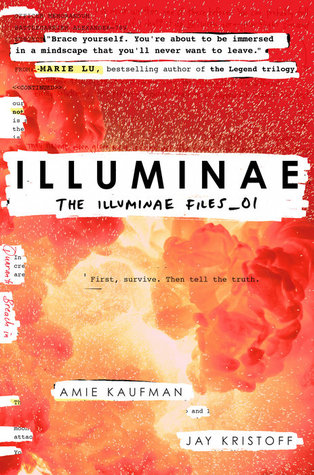 This morning, Kady thought breaking up with Ezra was the hardest thing she'd have to do.
This afternoon, her planet was invaded.
The year is 2575, and two rival megacorporations are at war over a planet that's little more than an ice-covered speck at the edge of the universe. Too bad nobody thought to warn the people living on it. With enemy fire raining down on them, Kady and Ezra—who are barely even talking to each other—are forced to fight their way onto an evacuating fleet, with an enemy warship in hot pursuit.
But their problems are just getting started. A deadly plague has broken out and is mutating, with terrifying results; the fleet's AI, which should be protecting them, may actually be their enemy; and nobody in charge will say what's really going on. As Kady hacks into a tangled web of data to find the truth, it's clear only one person can help her bring it all to light: the ex-boyfriend she swore she'd never speak to again.
Told through a fascinating dossier of hacked documents—including emails, schematics, military files, IMs, medical reports, interviews, and more—Illuminae is the first book in a heart-stopping, high-octane trilogy about lives interrupted, the price of truth, and the courage of everyday heroes.
Title: Illuminae
Authors: Amie Kaufman and Jay Kristoff
Page Count: 599
Publisher: Knopf Books for Young Readers
Date Published: 10/20/2015

This book jumps right into the action. Kady and Ezra's home planet; Kerenza is invaded by BeiTech. UTA (United Terran Authority) gets there and helps the WUC, to kick some BeiTech ass. Though one BeiTech dreadnought survives... the Lincoln.

Of the UTA fleet the Alexander, Hypatia, and the Copernicus survive. Kady ends up on the Hypatia and Ezra on the Alexander. The Alexander as taken a lot of damage and can no long create it's own wormhole. So now everyone's worried about the Lincoln catching up and killing them all. Scary stuff.

While all that has been going down, Ezra's been trying to reach Kady. His ex girlfriend, whom had just broken up with him the day on the invasion. The UTA are in dire need of more people and soon Ezra is scripted into being a fight pilot. Kady on the other hand, begins to work with another hacker. See, the UTA isn't giving their passengers all the information they deserve, so our hackers set out to see what that is.

The Alexander AI then decides to kill everyone on the Copernicus because a virus has broken out on board because of BeiTech. It starts slowly and then turns it's victims into zombies. Not to mention during this time that the Lincoln is catching up! So they shut down the AI but when Lincoln comes calling, they have to to turn it back on and everyone goes crazy.

Does our couple survive? Do they get back together? Does Lincoln kill them or or does the AI? Does anyone ever get back at BeiTech for going into their planet? You MUST read to find out!

This book is just so good! I didn't think I'd like it. Not really my kind of thing honestly. But the format... it doesn't read like a normal book and that's what makes it so freaking cool! It reads in a series of chat logs, diary entries, and even a few web pages. I've never seen a book do this before. Don't get me wrong, the story is good too. Though it does start off a little slow, it took me a while to really invest in these characters but when I did.... I found that I couldn't put this book down. I even took it to work with me and read on breaks. It's so amazing!

If you've not read this book already, what are you waiting for? It's worth a read and if you're like me and this isn't usually your kind of read, I'd still give it a chance, so worth it! It's such a great book, had me on the edge of my seat and it's so beautiful!


Favorite Quotes

1) "You have me. Until ever last star in the galaxy dies."

2) "I am frequently underestimated. I think it's because I'm short."

3) "I should have told you I loved you every day. I should have given you the stars."

4) "He presses the triggers. And like roses in his hands, death blooms."