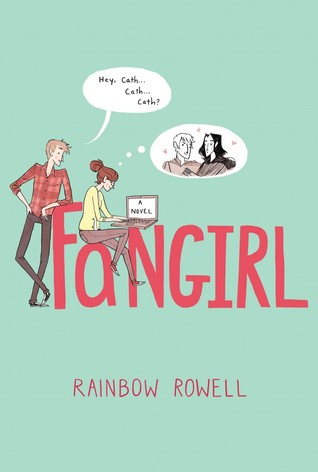 A coming-of-age tale of fan fiction, family and first love.
Cath is a Simon Snow fan.
Okay, the whole world is a Simon Snow fan...
But for Cath, being a fan is her life—and she's really good at it. She and her twin sister, Wren, ensconced themselves in the Simon Snow series when they were just kids; it's what got them through their mother leaving.
Reading. Rereading. Hanging out in Simon Snow forums, writing Simon Snow fan fiction, dressing up like the characters for every movie premiere.
Cath's sister has mostly grown away from fandom, but Cath can't let go. She doesn't want to.
Now that they're going to college, Wren has told Cath she doesn't want to be roommates. Cath is on her own, completely outside of her comfort zone. She's got a surly roommate with a charming, always-around boyfriend, a fiction-writing professor who thinks fan fiction is the end of the civilized world, a handsome classmate who only wants to talk about words... And she can't stop worrying about her dad, who's loving and fragile and has never really been alone.
For Cath, the question is: Can she do this?
Can she make it without Wren holding her hand? Is she ready to start living her own life? Writing her own stories?
And does she even want to move on if it means leaving Simon Snow behind?


Cather is a huge fangirl. Her twin, Wren used to be one too. They used to do everything together. But now it's time for college and Wren wants everything separate. Wren already has a roommate and when they get there, she barely makes time for Cather... unless it's to pick on her love of Simon Snow.

Simon Snow's a huge book series about mages.... yes, it's totally based off Harry Potter. That's so easy to see. Cather loves writing Simon Snow fan fiction. Hopefully, all of you know what fan fiction is. Even if you've never written any. It almost seems like it's her entire life and she's super popular with her fic too.

This book is really just about her finding the balance with her fic writing and the real world. Which is what I took from it at least. It deals with so many real world issues, drinking, depression, and even anxiety. Also abandonment issues are peppered through the book. I really like how accepting all the characters where once they found out Cather wrote fanfiction. I can't help but wonder if that's how people in the real world would act. I mean, Luke never once picks on her. It's even so cute how they bound through it.

When a few of my friends found out that I was writing K-pop fanfiction (like 3-4 years ago), they picked on me so much. Not just teasing, but like really mean. I ended up having to stop being friends with them. Not nice people. So my question is, was my experience just a very rare and sad one or have any of you had that happen to them? I will say that I did make a few good friends through fanfiction, though when I quit writing, they stopped talking to me. Yeah, anyway, off topic.

I really love Cather! She never gave into peer pressure, stayed strong when others were drinking or doing drugs. I admire that so much! We need more role models like Cather! I could just go on and on about how freaking awesome she is!

This novel is perfect for any fangirl out there. You will find yourself relating to Cather and falling in love with Luke. He's just so cute and understanding. There are some really great messages in this book. There is at least one part of this novel that everyone will connect with. So much happens.

I actually took this book with me to work, reading it when my boss wasn't looking. I know I shouldn't have, but I found it hurt to put it down. My hands would just ache to hold it once more and my eyes wanted to seep all the words in.

Every fangirl should read this book. You will not regret it!


1) "In new situations, all the trickiest rules are the ones nobody bothers to explain to you. (And the ones you can't Google.)"
2) "You've read the books?"
"I've seen the movies."
Cath rolled her eyes so hard, it hurt. (Actually.) (Maybe because she was still on the edge of tears. On the edge, period.) "So you haven't read the books."
"I'm not really a book person."
"That might be the most idiotic thing you've ever said to me."
3) "How do you not like the Internet? That's like saying, 'I don't like things that are convenient. And easy. I don't like having access to all of mankind's recorded discoveries at my fingertips. I don't like light. And knowledge."
4) "What's the plan?" she asked.
He grinned. "My plan is to do things that make you want to hang out with me again tomorrow. What's your plan?"
"I'm going to try not to make an ass of myself."
He grinned. "So we're all set."