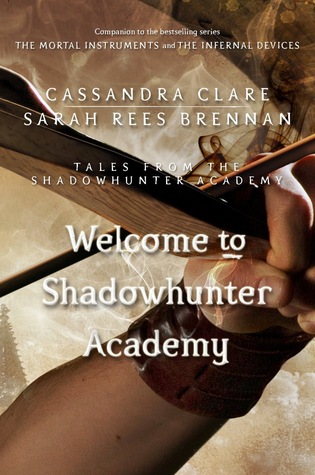 Welcome to Shadowhunter Academy: After living as a Mundane and a Vampire, Simon never thought
he would become a Shadowhunter, but today he begins his training at Shadowhunter Academy.
The Lost Herondale: Simon learns the worst crime a Shadowhunter can commit: desertion of their comrades. In the early nineteenth century, Tobias Herondale abandoned his fellow Shadowhunters in the heat of battle and left them to die. His life was forfeit, but Tobias never returned, and the Clave claimed his wife's life in exchange for Tobias's. Simon and his fellow students are shocked to learn of this brutality, especially when it is revealed the woman was pregnant. But what if the child survived... could there be a lost Herondale line out in the world today?
So I know this is supposed to introduce us to this Simon and also the Shadowhunter Academy and it did just that but this short story on it's own was a little boring, I know it will get better but this one alone wasn't as great as I wanted it to be. There was a lot of funny moments that I loved and then Simon sticking up for the humans at the academy was simply perfect but not much else happened besides Simon being sad because he can't remember who he was before and his friends being sad for the same reason... just yeah.

The second one is better I think, though I still wish these stories were just released as one book and not these short stories it would fully and make for a better review, these on their own aren't all that great but I know when I get to read them all that the end product will be epic, it's just hard to judge these as they are, they feel incomplete to me just as short stories.

I like that Izzy still hasn't given up on Simon, I hope he does get his memories back and they are happy together because they are freaking cute! I just wonder what is going to come of the lost Herondale line, will more from that bloodline be found? Or was it just to teach Simon a lesson? That's really what all of these stories are, Simon being taught little lessons in each part, kind of like one of those old 90's TV shows. None the less, I do like these, I just personally think they are nowhere near as great as TMI or TID
Favorite Quotes
1) "Every decision you make, makes you. Never let other people choose who you're going to be."
2) "Like all Herondales, his ability to love without measure, without end, was both his great gift and his great curse."
3) "Well, I'm a Lovelace. My family quit Shadowhunting due to laziness in the 1700s."
4) "If you want to tell me. You don't have to. We all have secrets.""I chased away the most amazing girl I have ever met, because I'm too much of a loser to manage being myself. That's my secret: I want to be a hero, but I'm not one. Everybody thinks I'm some amazing warrior who summoned angels and rescued Shadowhunters and saved the world, but it's a joke. I can't even remember what I did. I can't imagine how I did it. I'm no one special, and no one's going to be fooled for long, and I don't even know what I'm doing here. So. You have a secret that can beat that?"