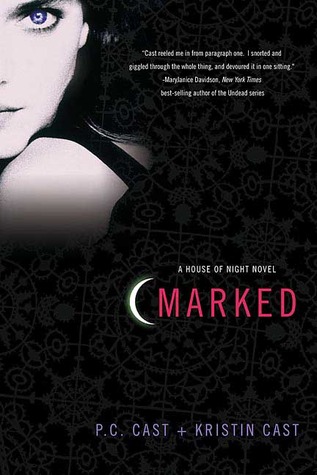 After a Vampire Tracker Marks her with a crescent moon on her forehead, 16-year-old Zoey Redbird enters the House of Night and learns that she is no average fledgling. She has been Marked as special by the vampyre Goddess Nyx and has affinities for all five elements: Air, Fire Water, Earth and Spirit. But she is not the only fledgling at the House of Night with special powers. When she discovers that the leader of the Dark Daughters, the school's most elite club, is mis-using her Goddess-given gifts, Zoey must look deep within herself for the courage to embrace her destiny – with a little help from her new vampyre friends (or Nerd Herd, as Aphrodite calls them).
Series: House of Night
Author(s): P.C. Cast & Kristin Cast
Page Count: 306
Published: May 1st 2007
Publisher: St. Martin's Griffin
So I remember reading this book back in 2009 and loving it. I read the other books that were out at this time and it was simply an amazing series. I remember being so sad that they weren't coming out fast enough for my liking. Then I reread this first one this past month. It's not really the best book out there. It's rather immature and silly. Though highly entertaining.
It's also a rather neat idea, a vampire finishing school. I like the whole idea and premise I just think it could have been done better. I mean Zoey is kind of whiny and some of her friends are rather shallow at times. I do like that their is some diversity in this series. Like Zoey having a Native American background, Damien being gay, and Shaunee being African American. It did feel very real in that way. I loved it. Wish more books would follow this series in that way.
Though I've been told it does get a little more mature in the later novels, with how the characters actually grow up. Maybe that's what they were going for, making them seem like real teenagers, though they made them a bit too whiny and shallow and well... bratty. I wasn't anything like that as a teenager.
Overall, I for some weird reason like this series, it must be because it holds a place in my heart. In 2008 we moved from my hometown (which I would kill to go back too), and got even more into reading, this was a series I picked up and it helped me through the dark time where I had no friends and was in a new place I didn't like. So whenever I read these, I don't feel so alone. Weird sounding I'm sure but that's the truth.
So if you like quick reads that make you want to pull your hair out at all the strange things and characters that are mostly shallow, this is for you!
1) "Actually, since I'm gay I think I should count for two guys instead of just one. I mean, in me you get the male point of view and you don't have to worry about me wanting to touch your boobies."

2) "Don't you think baby corns are scary? There's just something wrong about their midget bodies."

3) "He's not the brightest crayola in the pack."