This was actually pretty easy for me to do as I love indie books! They never get the hype they deserve! All these books are great ones and if you haven't read them you should! 1 & 6 are my personal favorites. Hope you enjoy this list and happy reading!
10) Second Nature
Opposite elements, same side…
Long ago, the Esscas, a rogue group of elementals, had once dared to challenge the Queens, the self-proclaimed masters of the element realms. The resulting war had decimated the world and the very people. In the end though, the Queens had prevailed and banished the Esscas to the After for all eternity.
Fae had shared no alliance with the Esscas, but had felt the ripples of their punishment nonetheless. For their actions, she would never be free. Born a fire elemental herself, Fae had spent every waking moment of her life training to be a guard for her Queen, with no choices in regards to her own fate. It was that or exile herself.
Jace, on the other hand, had been born an earth elemental with every choice in the world, yet had been one of those that had taken part in the Esscas. His punishment… eternity in exile, swallowed in regrets…
When the Esscas escape, vengeful and angry, and threatening the world once more, Fae and Jace quickly find their fates intertwined. While Fae fights for the chance to taste her freedom, Jace finds a chance to atone for his past mistakes.
Only by setting aside their differences, in both elements and loyalties, do they stand any chance to make a change and defeat Jace's ex-team once more.
If only trust was that easy…
9) Five Seven Five
Take only what can be used. Take only what won't be missed. The Creators are watching all of us.
White Frost lives in a world cloaked in darkness and ignorance. While most people in her society are content to live in fearful peace, White's cousin brings her words from the mysterious Unknown. Strange collections of written words that tease her that there may be more to the world than candlelight and dank hallways.
But when tragedy strikes, White can no longer rely on the words to give her solace. She must discover what lies beyond the only world she's ever known… no matter the cost.
Eventually, White finds her way to the skies and there she discovers that the tantalizing clues of her words are only pale reflections of the massive and wondrous world above. Colors she never thought possible. Blinding light. And an impossible being who may or may not be the Creator of it all.
But this information comes at a price White Frost is not sure she can pay.
White's hunger for knowledge proves to be her greatest strength and weakness as she strives to learn more. But as she learns, she has to wonder – is there such a thing as too much information? And what will happen as it brings her closer to a being who could destroy everything she's ever known?
Find out in Five Seven Five, the first book in a two part series entitled The Boy with Words.
8) Outsiders
Something greater than human…
Jaylen Hayes knows that she is different from all other seventeen-year-old girls. Possessing extraordinary intelligence, she is also uncannily powerful and inexplicably hated by wild animals. But it is not until she transfers to Trinity High that she learns the truth about who—and what—she really is.
Instinctively drawn to two new classmates—the intense and passionate Indigo, and the charismatic and breathtakingly gorgeous Michael—Jaylen soon learns the shocking secret of their shared heritage, and the bloodline that extends to the stars. However, all is not what it seems, and Jaylen soon finds her newfound security threatened when a trusted friend becomes a dangerous and vengeful enemy.
7) Alice in Murderland
Now! Let the "Mad Tea Party" begin!
The Kuonji clan, owner of one of the world's top conglomerates, has a tradition: Once a month, family members attend a "Mad Tea Party." But at the latest gathering, the nine Kuonji siblings in attendance are shocked to hear a pronouncement issue from the lips of their mother, Olga-
"I'd like you children to now fight one another to the death!"
As chaos erupts, Stella, the fourth daughter, loses all reason, and suddenly a whole new Stella, complete with blonde hair and blue dress, comes out to play-!!
6) Legacy
How do you want to feel today?
In 2041, the choice is yours.
San Francisco is deserted, the Bay Bridge bombed, and the BART subway trains grounded. The Guardians, members of an elite and mysterious government-appointed military police force, are maintaining order at all costs—thanks to emotion-altering drugs like Emovere that suppress fear and anxiety. Lex Knightley, daughter of a prominent forensic psychiatrist, risks entering the devastated city to partner with the Resistance, a group of rebels intent upon exposing the dangers of Emovere. Lex discovers an ally in Quin McAllister, a magnetic Guardian Force recruit with a haunting past that binds them together. As she uncovers the secrets of the Guardian Force and confronts the truth about her family, Lex begins to realize that even those closest to her are not quite who they seem.
5) Angelfire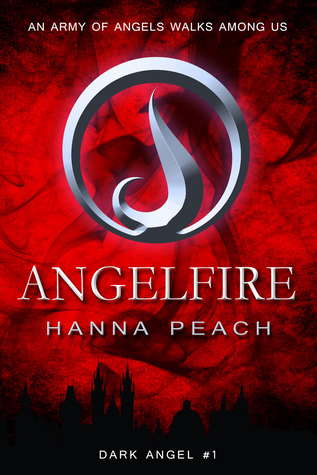 Forget everything you know about angels…
You'll likely find Alyxandria slicing demons with her blades rather than plucking at harp strings. Whether it's with weapons, unarmed or with the "borrowed magics" of distilled angel-blood tattoos, she trains harder than any other Seraphim warrior to prove she is nothing like her parents who abandoned her to become Rogues.
When Alyx starts displaying the signs of a strange new magic, most don't believe her and no one has answers for her. She starts to investigate for herself. The web of lies she uncovers will shatter her world and she'll be forced to risk everything for Israel, a mortal she barely knows.
Alyx and Israel will soon realize that their destinies are inexplicably tied - and that their choices will determine the fate of Earth itself.
It begins in Angelfire.
4) Becoming Darkness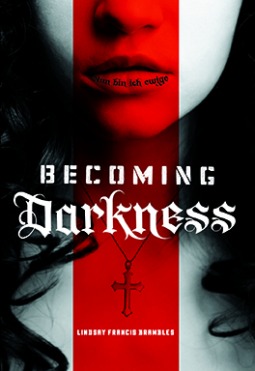 Like everyone else living in Haven, seventeen-year-old Sophie Harkness is an Immune--a carrier of the genetic mutation that protects her from the virus Hitler unleashed upon the world more than half a century ago. A virus that wiped out most of humanity and turned two-hundred million people into vamps. But after her best friend is brutally murdered and several attempts are made on her own life, Sophie becomes determined to find answers to what seems to be a conspiracy running generations deep. And when she questions the peace treaty that keeps her small community protected, Sophie begins to discover terrible truths about herself and what it means to be human in a world ruled by darkness.
Lindsay Brambles' debut young adult novel is a story of an alternate universe: Hitler won the war, our modern technologies never evolved, and the Nazis' terrifying reign still continues. This fast-paced novel will appeal to readers who guzzle up genre mashups and are looking for a fresh hybrid to sweep them away.
3) Darkest Dawn
One desperate journey for the truth
Returning to Willows Lake eleven years after her mother's tragic death, Sloane Baker knows she will finally get the answers she needs! She always suspected that there was something more sinister at the heart of the accident that claimed her mother's life, but a cryptic note could be the key to her past…
Two lives changed forever
The small town has always seemed safe to Brianna Taylor – until a mysterious new girl arrives who looks exactly like Bri! Now everything Bri knew has been thrown into question and Sloane's arrival has changed the world of Willows Lake forever.
Strange things are happening in Willows Lake. But when they turn deadly, Bri and Sloane must find a way to save each other or risk losing everything they hold dear…
2) Destiny Calls
A handsome stranger who walks through fire, dreams that aren't really dreams, and exotic adventure await young college student Kay Morowa.
Because in the heart of Africa is the secret utopia of Ipharadisi—the land of the peacekeepers. Their magical village is a refuge whose guardians only leave to fight off the poachers, warlords and darkness that engulf the outside world. Kay Morowa has something in common with the peacekeepers. She just doesn't know it yet. But when Kay wins a coveted trip to South Africa, she must decide whether she's willing to never see her friends and family again to help somehow familiar strangers bring about peace.
Now, if Kay can survive the hand-to-hand combat and the one with the ivory dagger who wishes her death, Kay may just become the kind of stranger rescuing, peace seeking hero her classmates would never believe. Kay might even fall in love. Of course, our brave girl may instead discover the answer to something she never wanted to know the answer TO:
What happens… when you die.
1) Emerge: The Awakening
Allie Carmichael has always believed life is simple.
You're born. You live. You die.
She has no cause to believe those rules don't apply to her.
All her life, Allie has suffered in silence as those around her shrink from her touch, too intimidated to take the time to get to know her. It's left her feeling like a pariah for fifteen years.
When an unexpected move to Kelleys Island brings Aidan McBrien crashing into her life, Allie is thrown by his reaction. He isn't affected by her touch. He doesn't stutter or make a quick exit. He smiles and welcomes her into his circle of friends.
For the first time ever, Allie knows what true friendship means. Finally, she has a real shot at normal--until "normal" crashes and burns when she wakes in agony on her sixteenth birthday. Aidan calls it her Awakening, a rite of passage he and their friends have all faced. Allie struggles in ignorance through the experience, uncertain of what is real and what isn't. When she emerges, she is different. She has always been different, but even among her extraordinary friends, she and Aidan are special.
As Allie struggles to maintain her tenuous grasp on the power that threatens to overwhelm her, she worries she will lose herself in this strange new world of ancient Immortal beings.
A dangerous world where she will have to fight tooth and nail to defend the power and freedom that is her birthright.
Join Allie and Aidan in this coming of age, urban fantasy set within our own world.