So I'm excited to bring to you this awesome interview. I'm so thankful to Michelle for agreeing to this and for taking the time out to answer my questions. So if you've never heard of Michelle Johnson before, (what have you been doing with your life?) she's the author of the epic Oleah Chronicles.
Her two books so far have been so great! They are also diverse, so anyone who has switched to only diverse reads, this is for you as well!
Book #1
Book #2
So can I just say how stunning the cover model is? She is so beautiful and I think she fits Angel really well.I see her in my mind when I read this series.
1) Do you have any strange writing rituals/routines?
I don't think I do. My routine usually involves me rereading everything I wrote the day before to get back in the mood, then start adding to the previous scene. Sometimes, the scenes play quite vividly in my mind and tend to replay over and over as I'm trying to figure out what the next step is, but I wouldn't call that strange. Many authors - including myself - are already weirdos as it is. :)
2) Who is your favorite character in the series?
It's really a toss up between Angel and Zander. Angel is still finding out so much about herself, while Zander is so sure of who he is. Both have so many layers that readers still have yet to see, but if I had to choose I would say Zander. Creating his mind and thought process always tends to excite me. He's known so much dark in his life and a lot of that is etched in him regardless of how "light" he is now. I love poking and prodding around in his head.
3) If you could cast your characters in a movie, who would play them?
Hmmmmm.....Most of these I've used so many times on my instagram when posting scene quotes.
Satine would be Zoe Saldana.
Eli - David Gandy.
Zander - Francisco Lachowski.
Julie - Emilia Clarke.
Kovu - I'm not really too sure about him to be honest. Someone that resembles Tyson Beckford but much younger.
Coral - another one I'm not too sure about since she's technically a toddler in appearance.
Uncle Lou - Goncalo Teixera - not too sure if he can act, but he's got the whole dark and handsome thing going on.
Last but most definitely not least, Angel would be played by Gugu Mbatha-Raw - just the younger version of herself.
4) What was the hardest scene to write for Justice?
The last scene was the hardest. I had to rewrite it many times because I had a hard time conveying Angels pain. I wanted readers to feel how raw but numb she was. It wasn't easy, that's for sure.
5) If you could only read one genre of books for the rest of your life, which would you choose?
Paranormal Romance till the day I die! Love, love, LOVE IT!
6) What inspired you to become an author?
It wasn't my intention to become an author, I just started writing the story one day with plans to only keep it to myself. The push came from friends that read it, otherwise I would have continued to be too scared to release it to the public.
7) How did you come up with the idea for the Oleah Chronicles?
I'm not too sure to be honest. I just sat down to write one day and the words just kept flowing like I'd pre planned it all along. It sounds cheesy but it's almost like the universe put the story in my mind and trapped it, waiting for just the right moment to get me on the computer and get it out. It's a big mishmash of all the things I love - vampires, lions, romance, mythology - all rolled into one.
8) What advice would you give to any aspiring authors out there?
Don't listen to that annoying little voice that keeps telling you that you're not good enough. You will never know your true potential or capability until you take a risk and put yourself out there. I was convinced that no one would enjoy my story, but was floored to discover that not only were people reading it, but they were enjoying it too. Best risk I've ever taken.
9) Lastly, can you give any spoilers for the next novel in the Oleah Chronicles?
Spoilers, hmm.... Well, I can say that readers finally get to experience Uforika. Angel and her family do finally go back to their planet for good. Everything else will remain a mystery, but shit definitely gets real. The last installment is the darkest of all three.
Want to dive into this action packed story? Get yours at one these online retailers.
Author Bio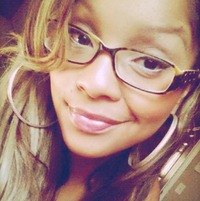 Throughout my childhood I was always told I had a very creative imagination. I was drawn to stories of mythical creatures and all things that would usually give my peers the heebie geebies. Shows like Tales from the Crypt Keeper and Buffy the Vampire Slayer were among some of my favourites.
I developed a strong passion for design and illustration, drawing the ideas that arose in my head and finding great excitement in bringing them to life. This led me to pursue a career in graphic design and marketing so that I could always use my creativity to the fullest.
I have always loved reading and the way a compelling story would allow my mind to absorb its detailed imagery. I began to use writing as a tool to bring my creative thoughts to fruition one day, which has brought me to this moment.
I'm a romantic at heart and a sucker for stories about true love which is reflected in my writing and helped bring the Oleah Chronicles to life. I hope you enjoy my first book and through it you experience the eccentric vision that began in my mind so long ago.