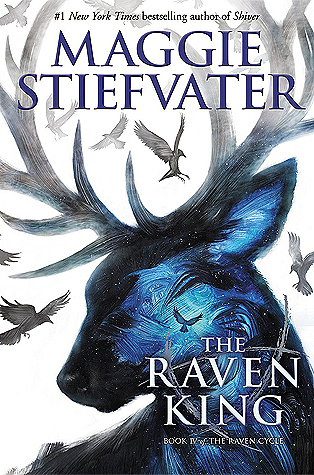 The fourth and final installment in the spellbinding series from the irrepressible, #1 New York Times bestselling author Maggie Stiefvater.
All her life, Blue has been warned that she will cause her true love's death. She doesn't believe in true love and never thought this would be a problem, but as her life becomes caught up in the strange and sinister world of the Raven Boys, she's not so sure anymore.
Does anyone else feel cheated? I mean the kissing scenes? It was just blah kisses blah. No description whatsoever. I mean the whole series started with Blue being told she'd kill the one she loved with a kiss. Then the kiss is so just brushed over. It's like all this buildup and the payoff is not worth it at all. Same with Ronan and Adam, I wanted from them. Am I the only one that feels this way?
Also they spend four books searching for this Welsh king and he's dead. Yeah that's the big ending I was waiting for... not. This ending was such a let down for this amazing series. I had high hopes for this one and I was so let down.
I am glad Gansey didn't stay dead, though I kind of knew he wouldn't. It just seemed like he would come back. If he had died... this book would have been just freaking awful. I really liked Henry, he was a welcome addition. At first I wasn't sure I could trust him but he's a good guy and I'm glad he joined the group.
I am so happy that Piper got what was coming to her! That was probably the best part of the whole book! I'm really glad she left the ending open for more from these characters, I love this crew so much! Just please, when you set something highly, make the payoff worth it.