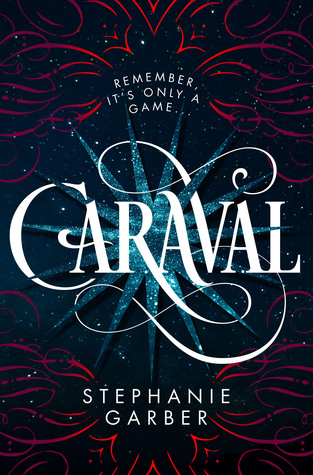 Whatever you've heard about Caraval, it doesn't compare to the reality. It's more than just a game or a performance. It's the closest you'll ever find to magic in this world . . .
Welcome, welcome to Caraval―Stephanie Garber's sweeping tale of two sisters who escape their ruthless father when they enter the dangerous intrigue of a legendary game.
Scarlett has never left the tiny island where she and her beloved sister, Tella, live with their powerful, and cruel, father. Now Scarlett's father has arranged a marriage for her, and Scarlett thinks her dreams of seeing Caraval, the far-away, once-a-year performance where the audience participates in the show, are over.
But this year, Scarlett's long-dreamt of invitation finally arrives. With the help of a mysterious sailor, Tella whisks Scarlett away to the show. Only, as soon as they arrive, Tella is kidnapped by Caraval's mastermind organizer, Legend. It turns out that this season's Caraval revolves around Tella, and whoever finds her first is the winner.
Scarlett has been told that everything that happens during Caraval is only an elaborate performance. But she nevertheless becomes enmeshed in a game of love, heartbreak, and magic with the other players in the game. And whether Caraval is real or not, she must find Tella before the five nights of the game are over, a dangerous domino effect of consequences is set off, and her sister disappears forever.
Stunning! Magical! Twisted!
These are all words I can use to describe this amazing book. Caraval is unlike any book I've read before and it blew me away! I do not give out five stars easily, a book has to earn them from me and this one did! It sucked me in within the first three chapters and then I could not put the book down! The characters, the plot, the world are so very well developed.
I will say that while I love reading about this book that it is not a world I'd ever want to visit. It's dark and you can't even trust what you see with your own eyes. I would be the worst player that this game in the history of players. I admire Scarlett for what all she goes through and all for the love her and her sister share. There are so many plot twists and even parts where I was sure I had it all figured out and then BAM, something changed again. It will keep you guessing until the last page.
This book is so mind blowing and epic. You NEED to read this book! I recommend it to everyone!
*I won this book through a Goodreads giveaway*