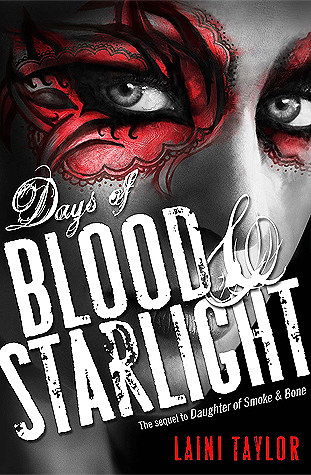 Once upon a time, an angel and a devil fell in love and dared to imagine a world free of bloodshed and war.
This is not that world.
Art student and monster's apprentice Karou finally has the answers she has always sought. She knows who she is—and what she is. But with this knowledge comes another truth she would give anything to undo: She loved the enemy and he betrayed her, and a world suffered for it.
In this stunning sequel to the highly acclaimed Daughter of Smoke & Bone, Karou must decide how far she'll go to avenge her people. Filled with heartbreak and beauty, secrets and impossible choices, Days of Blood & Starlight finds Karou and Akiva on opposing sides as an age-old war stirs back to life.
While Karou and her allies build a monstrous army in a land of dust and starlight, Akiva wages a different sort of battle: a battle for redemption. For hope.
But can any hope be salvaged from the ashes of their broken dream?
"Once upon a time, an angel and a devil fell in love and dared to imagine a new way of living—one without massacres and torn throats and bonfires of the fallen, without revenants or bastard armies or children ripped from their mothers' arms to take their turn in the killing and dying.
Once, the lovers lay entwined in the moon's secret temple and dreamed of a world that was a like a jewel-box without a jewel—a paradise waiting for them to find it and fill it with their happiness.
This was not that world."
I am so speechless after reading this book. I cried, laughed, smiled, and got all the feels. I wish more books were written like this. I feel like this world is so flushed out... I mean I can see it in my mind just as good as I can the real world. The author is going such a great job at world building and this level is what other authors should aspire to.
The plot keeps moving: Karou is still trying to deal with the fact that Brimestone is dead and then she finds the White Wolf. Things get so bad for her here. There were many times I wanted to smack her and tell her 'girl, he's using you! He is only keeping you around until he can teach someone else to do your job!' She has taken over Brimsone's job for the army that White Wolf wants her to make.
Karou thinks she's helping, that the chimaera will accept her one day and trust her again. The White Wolf is telling everyone to stay away from her and not to trust her. I thought she would be smart enough to figure this out but she's blinded by so many other things.
Akiva is also suffering, he thinks Karou is dead. It's broken him and he's not sure what to do now. It's nice to see him make up with his brother and sister. I like his ARC as well. There is so much that happens in this book that I can't cover everything without making this six pages long.
Also Zuzana is one of the best side characters I have ever read about. I love her, she's so loyal and sweet. She's also not scared to bite back when needs be. I just love her so much.
It is slow to start, just like the first one but it's so worth it. I am simply in love with this world, these characters and this amazing writing.
If you've not read this series, you should! I promise that you will never regret it. This is one of the best written, most developed, and engaging series I've ever read.
It's going to be one of my favorites for the rest of my life.
1)
"A dream dirty and bruised is better than no dream at all."
2)
"I am one of billions. I am stardust gathered fleetingly into form. I will be ungathered. The stardust will go on to be other things someday and I will be free."
3)
"Your heart is not wrong. Your heart is your strength. You don't have to be ashamed."