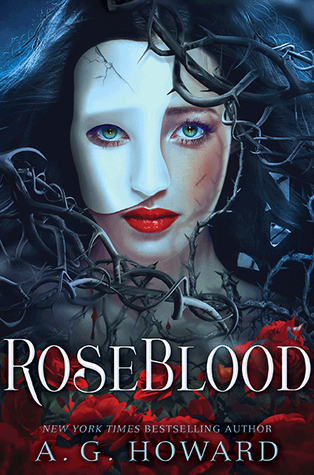 In this modern day spin on Leroux's gothic tale of unrequited love turned to madness, seventeen-year-old Rune Germain has a mysterious affliction linked to her operatic talent, and a horrifying mistake she's trying to hide. Hoping creative direction will help her, Rune's mother sends her to a French arts conservatory for her senior year, located in an opera house rumored to have ties to The Phantom of the Opera.
At RoseBlood, Rune secretly befriends the masked Thorn—an elusive violinist who not only guides her musical transformation through dreams that seem more real than reality itself, but somehow knows who she is behind her own masks. As the two discover an otherworldly connection and a soul-deep romance blossoms, Thorn's dark agenda comes to light and he's forced to make a deadly choice: lead Rune to her destruction, or face the wrath of the phantom who has haunted the opera house for a century, and is the only father he's ever known.
So I've decided to start calling my reviews, book breakdowns. I'm sure you guys have seen this on my blog a lot by now. I just wanted to officially say that all my reviews will now be titled Breakdown.
Book Breakdown
Why is there so much hate for this book?! I don't understand! My mind can't compute why everyone is not in love with this book! It's great. It's a bit slow to start but once it picks up... I could not stop reading. I read it mostly in one day. I just couldn't stop.
I think this is a new trend coming but when it switched POVs it switched from first and third person. I actually like this trend as it's so much easier for me to follow, I feel the book flows better. So I loved that touch. Rune was first POV and Etalon was third. So I know who I was reading as soon as it started.
I just loved how easy that was to catch one. Some books that switch POVs leave me confused as who I'm reading about. Anyone else ever get that?
The plot was sweet, romance, and at times creepy. I love this retelling. I have been in love with The Phantom of the Opera for years. I remember watching the movie years ago and then reading the book and soaking up everything I could find. So this hits home with me and makes me love it more. The world felt so real, the author did a great job at bringing this whole tell to life.
Etalon is so swoon worthy. I can see why Rune fell for him.
If you've not read this book yet than you need to. It's great! Just get past the first part and it's such a worthy read. I wish it just wasn't a standalone, I want more. Though it all does wrap up nicely and no loose ends. It's been such a long time since I read a great standalone. So go out and get this book!
******Know before you buy! This has been labeled problematic. Though honestly, I'm sure every book is going to get this label as everything offends someone. This is being labeled as such for the use of the term gipsy. Just letting you guys know.******