So I've done the gay, lesbian, and now it's time to show off some books that feature genderfluid, trans, intersex, or pansexual books. I could not find as many for these three so I decided to put them together. Publishers, get on this! If I've missed some let me know below! I'd love to know as many as possible. Also someone else may be interested as well.
1) Symptoms of Being Human
(Genderfluid)
The first thing you're going to want to know about me is: Am I a boy, or am I a girl?
Riley Cavanaugh is many things: Punk rock. Snarky. Rebellious. And gender fluid. Some days Riley identifies as a boy, and others as a girl. The thing is…Riley isn't exactly out yet. And between starting a new school and having a congressman father running for reelection in uber-conservative Orange County, the pressure—media and otherwise—is building up in Riley's so-called "normal" life.
On the advice of a therapist, Riley starts an anonymous blog to vent those pent-up feelings and tell the truth of what it's REALLY like to be a gender fluid teenager. But just as Riley's starting to settle in at school—even developing feelings for a mysterious outcast—the blog goes viral, and an unnamed commenter discovers Riley's real identity, threatening exposure. Riley must make a choice: walk away from what the blog has created—a lifeline, new friends, a cause to believe in—or stand up, come out, and risk everything.
2) If I Was Your Girl
(Trans)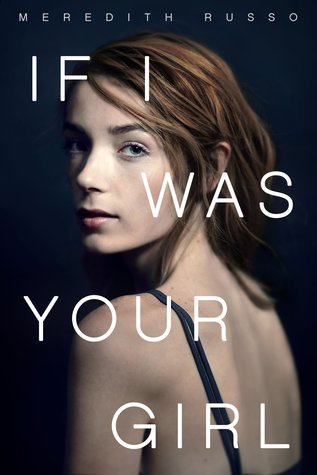 Amanda Hardy is the new girl in school in Lambertville, Tennessee. Like any other girl, all she wants is to make friends and fit in. But Amanda is keeping a secret. There's a reason why she transferred schools for her senior year, and why she's determined not to get too close to anyone.
And then she meets Grant Everett. Grant is unlike anyone she's ever met—open, honest, kind—and Amanda can't help but start to let him into her life. As they spend more time together, she finds herself yearning to share with Grant everything about herself…including her past. But she's terrified that once she tells Grant the truth, he won't be able to see past it.
Because the secret that Amanda's been keeping? It's that she used to be Andrew.
3) Jess, Chunk, and the Road Trip to Infinity
The last time Jess saw her father, she was a boy named Jeremy. Now she's a high school graduate, soon to be on her way to art school. But first, Jess has some unfinished business with her dad. So she's driving halfway across the country to his wedding. He happens to be marrying her mom's ex-best friend. It's not like Jess wasn't invited; she was. She just told them she wasn't coming. Surprise!
Luckily, Jess isn't making this trip alone. Her best friend, Christophe—nicknamed Chunk—is joining her. Chunk has always been there for Jess, and he's been especially supportive of her transition, which has recently been jump-started with hormone therapy.
Along the way from California to Chicago, Jess and Chunk will visit roadside attractions, make a new friend or two, and learn a few things about themselves—and each other—that call their true feelings about their relationship into question.
4) Lily and Dunkin
(Trans)
Author Donna Gephart crafts a dual narrative about two remarkable young people: Lily, a transgender girl, and Dunkin, a boy dealing with bipolar disorder.
Sometimes our hearts see things our eyes can't.
Lily Jo McGrother, born Timothy McGrother, is a girl. But being a girl is not so easy when you look like a boy. Especially when you're in the eighth grade.
Dunkin Dorfman, birth name Norbert Dorfman, is dealing with bipolar disorder and has just moved from the New Jersey town he's called home for the past thirteen years. This would be hard enough, but the fact that he is also hiding from a painful secret makes it even worse.
One summer morning, Lily Jo McGrother meets Dunkin Dorfman, and their lives forever change.
5) Pantomime
(Intersex)
In a land of lost wonders, the past is stirring once more
Gene's life resembles a debutante's dream. Yet she hides a secret that would see her shunned by the nobility. Gene is both male and female. Then she displays unwanted magical abilities - last seen in mysterious beings from an almost-forgotten age. Matters escalate further when her parents plan a devastating betrayal, so she flees home, dressed as a boy.
The city beyond contains glowing glass relics from a lost civilization. They call to her, but she wants freedom not mysteries. So, reinvented as 'Micah Grey', Gene joins the circus. As an aerialist, she discovers the joy of flight – but the circus has a dark side. She's also plagued by visions foretelling danger. A storm is howling in from the past, but will she heed its roar?
6) Mask of Shadows
(Genderfluid)
Perfect for fantasy fans of Sarah J. Maas and Leigh Bardugo, the first book in this new duology features a compelling gender fluid main character, impressive worldbuilding, and fast-paced action.
Sallot Leon is a thief, and a good one at that. But gender fluid Sal wants nothing more than to escape the drudgery of life as a highway robber and get closer to the upper-class―and the nobles who destroyed their home.
When Sal steals a flyer for an audition to become a member of The Left Hand―the Queen's personal assassins, named after the rings she wears―Sal jumps at the chance to infiltrate the court and get revenge.
But the audition is a fight to the death filled with clever circus acrobats, lethal apothecaries, and vicious ex-soldiers. A childhood as a common criminal hardly prepared Sal for the trials. And as Sal succeeds in the competition, and wins the heart of Elise, an intriguing scribe at court, they start to dream of a new life and a different future, but one that Sal can have only if they survive.
7) Timekeeper
(bi/pansexual)
Two o'clock was missing.
In an alternate Victorian world controlled by clock towers, a damaged clock can fracture time—and a destroyed one can stop it completely.
It's a truth that seventeen-year-old clock mechanic Danny Hart knows all too well; his father has been trapped in a Stopped town east of London for three years. Though Danny is a prodigy who can repair not only clockwork, but the very fabric of time, his fixation with staging a rescue is quickly becoming a concern to his superiors.
And so they assign him to Enfield, a town where the tower seems to be forever plagued with problems. Danny's new apprentice both annoys and intrigues him, and though the boy is eager to work, he maintains a secretive distance. Danny soon discovers why: he is the tower's clock spirit, a mythical being that oversees Enfield's time. Though the boys are drawn together by their loneliness, Danny knows falling in love with a clock spirit is forbidden, and means risking everything he's fought to achieve.
But when a series of bombings at nearby towers threaten to Stop more cities, Danny must race to prevent Enfield from becoming the next target or he'll not only lose his father, but the boy he loves, forever.
8) Beast
(Trans)
Tall, meaty, muscle-bound, and hairier than most throw rugs, Dylan doesn't look like your average fifteen-year-old, so, naturally, high school has not been kind to him. To make matters worse, on the day his school bans hats (his preferred camouflage), Dylan goes up on his roof only to fall and wake up in the hospital with a broken leg—and a mandate to attend group therapy for self-harmers.
Dylan vows to say nothing and zones out at therapy—until he meets Jamie. She's funny, smart, and so stunning, even his womanizing best friend, JP, would be jealous. She's also the first person to ever call Dylan out on his self-pitying and superficiality. As Jamie's humanity and wisdom begin to rub off on Dylan, they become more than just friends. But there is something Dylan doesn't know about Jamie, something she shared with the group the day he wasn't listening. Something that shouldn't change a thing. She is who she's always been—an amazing photographer and devoted friend, who also happens to be transgender. But will Dylan see it that way?
9) Lizard Radio
(Nonbinary)
Fifteen-year-old Kivali has never fit in. As a girl in boys' clothes, she is accepted by neither tribe, bullied by both. What are you? they ask. Abandoned as a baby wrapped in a T-shirt with an image of a lizard on the front, Kivali found a home with nonconformist artist Sheila. Is it true what Sheila says, that Kivali was left by a mysterious race of saurians and that she'll one day save the world? Kivali doesn't think so. But if it is true, why has Sheila sent her off to CropCamp, with its schedules and regs and what feels like indoctrination into a gov-controlled society Kivali isn't sure has good intentions?
But life at CropCamp isn't all bad. Kivali loves being outdoors and working in the fields. And for the first time, she has real friends: sweet, innocent Rasta; loyal Emmett; fierce, quiet Nona. And then there's Sully. The feelings that explode inside Kivali whenever Sully is near—whenever they touch—are unlike anything she's experienced, exhilarating and terrifying. But does Sully feel the same way?
Between mysterious disappearances, tough questions from camp director Ms. Mischetti, and weekly doses of kickshaw—the strange, druglike morsel that Kivali fears but has come to crave—things get more and more complicated. But Kivali has an escape: her unique ability to channel and explore the power of her animal self. She has Lizard Radio.
Will it be enough to save her?
10) The Tiger's Watch
(Genderfluid)
Sixteen-year-old Tashi has spent their life training as a inhabitor, a soldier who spies and kills using a bonded animal. When the capital falls after a brutal siege, Tashi flees to a remote monastery to hide. But the invading army turns the monastery into a hospital, and Tashi catches the eye of Xian, the regiment's fearless young commander.
Tashi spies on Xian's every move. In front of his men, Xian seems dangerous, even sadistic, but Tashi discovers a more vulnerable side of the enemy commander—a side that draws them to Xian.
When their spying unveils that everything they've been taught is a lie, Tashi faces an impossible choice: save their country or the boy they're growing to love. Though Tashi grapples with their decision, their volatile bonded tiger doesn't question her allegiances. Katala slaughters Xian's soldiers, leading the enemy to hunt her. But an inhabitor's bond to their animal is for life—if Katala dies, so will Tashi.