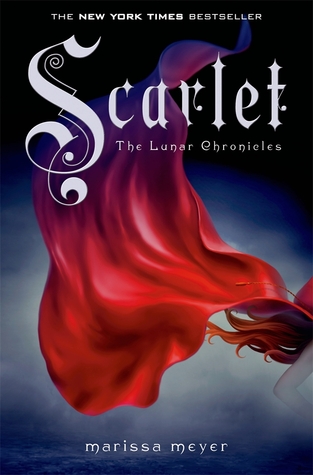 Cinder, the cyborg mechanic, returns in the second thrilling installment of the bestselling Lunar Chronicles. She's trying to break out of prison—even though if she succeeds, she'll be the Commonwealth's most wanted fugitive.
Halfway around the world, Scarlet Benoit's grandmother is missing. When Scarlet encounters Wolf, a street fighter who may have information as to her grandmother's whereabouts, she is loath to trust this stranger, but is inexplicably drawn to him, and he to her. As Scarlet and Wolf unravel one mystery, they encounter another when they meet Cinder. Now, all of them must stay one step ahead of the vicious Lunar Queen Levana, who will do anything for the handsome Prince Kai to become her husband, her king, her prisoner.
Okay so because everyone kept telling to me read the series as it gets much better. I caved. I don't usually do this kind of thing. Once I make up my own mind about something I stick with it. But for some reason I caved and read Scarlet even though I wasn't that taken with Cinder. I'm so glad I decided to read this one.
I'm not the biggest fan of sci-fi, I've said this before. So I do have to push through that. Which is probably why I rated this book 4 stars instead of 5. I only like... 2 series I think that are sci-fi. I guess now 3 series. I loved Scarlet! She was freaking awesome. I love all her sass, I love how willing she is to give up her own life to save her grandmama. I love how she isn't helpless, she had her own person little gun. She is self sufficient. Love her.
I even love Wolf, he is awesome. I love how he fights his nature to help her. How Scarlet is kind of turning him into a big teddy bear. I like their developing relationship. They are cute.
I enjoyed Cinder in this one. I felt she was much better in this one than the last. Also I liked that the heavy handed foreshadowing wasn't here. In Cinder I honestly felt like maybe the author thought her readers were stupid and needed all these hints. Well, not hints but pretty much telling the readers that Cinder is the princess. Scarlet had none of this and that made it so much better to me.
I do think we left off in a pretty sad place, Scarlet's grandmama is dead and Kai is set to marry evil bitch face. Not a good thing. So I can't wait to read Cress and see where this goes. I'm hoping it stays on this level so I will enjoy the rest of the series.