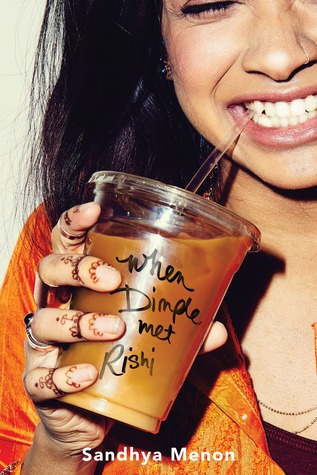 The rom-com that everyone's talking about! Eleanor & Park meets Bollywood in this hilarious and heartfelt novel about two Indian-American teens whose parents conspire to arrange their marriage.
Dimple Shah has it all figured out. With graduation behind her, she's more than ready for a break from her family, from Mamma's inexplicable obsession with her finding the "Ideal Indian Husband." Ugh. Dimple knows they must respect her principles on some level, though. If they truly believed she needed a husband right now, they wouldn't have paid for her to attend a summer program for aspiring web developers…right?
Rishi Patel is a hopeless romantic. So when his parents tell him that his future wife will be attending the same summer program as him—wherein he'll have to woo her—he's totally on board. Because as silly as it sounds to most people in his life, Rishi wants to be arranged, believes in the power of tradition, stability, and being a part of something much bigger than himself.
The Shahs and Patels didn't mean to start turning the wheels on this "suggested arrangement" so early in their children's lives, but when they noticed them both gravitate toward the same summer program, they figured, Why not?
Dimple and Rishi may think they have each other figured out. But when opposites clash, love works hard to prove itself in the most unexpected ways.
First off, this book is just about two people falling in love. There isn't much a plot otherwise. Which is totally fine, I like romance books but this was marketed to be more than just a romance. So to me, it failed on that level. But again, my full rating is not because it's just a romance. I love romance. Something about this book I loved: all the kissing. I often wish more books had kissing and this one actually gave me a lot of it. Only all the kiss scenes got old after awhile because they were all described the same. They began to blur together. Which wasn't a good thing.
Something else I loved about this book was seeing the Indian culture. I love reading about other cultures because it's like I'm getting to travel to all the places I want to go but will never have the money to actually go.
Rishi, I actually did like him. He could be whiney at times but I still liked him. He was sweet, cute as could be and I just love him. I felt his struggle, wanting to make his parents proud of him but also wanting to do his own thing.
Dimple.... she is the real reason for my rating. She made me want to rip my book into pieces and burn it with fire. She's so mean to her parents when they only want what they think is best for her. I get it, she doesn't want what they want for her but they aren't coming from a mean place. So her attitude towards them in the beginning bothered me. I hated how she looked down on her friend because she had money and didn't have to go through.... Dimple assumed that she had the harder life. Ugh.
She was so judgy about others who wanted to wear makeup and cared about their clothes. It came off to me that she thought she was better because she didn't. News flash, you're not better than anyone else just because they wear makeup and you don't. Then how she treated her roommates friends.... nope. Just couldn't take her anymore.
I loved parts of her character, how she took crap from no one. How she was going hard for her dreams. Those were wonderful parts of her character I loved but it didn't excuse her other actions.