Since I read a lot of YA, there are a lot of books with characters in high school and I thought I'd share some of my favorites with you guys! These aren't in order really as I love them all and wouldn't want to choose.
6) Paper Princess
From strip clubs and truck stops to southern coast mansions and prep schools, one girl tries to stay true to herself.
These Royals will ruin you…
Ella Harper is a survivor—a pragmatic optimist. She's spent her whole life moving from town to town with her flighty mother, struggling to make ends meet and believing that someday she'll climb out of the gutter. After her mother's death, Ella is truly alone.
Until Callum Royal appears, plucking Ella out of poverty and tossing her into his posh mansion among his five sons who all hate her. Each Royal boy is more magnetic than the last, but none as captivating as Reed Royal, the boy who is determined to send her back to the slums she came from.
Reed doesn't want her. He says she doesn't belong with the Royals.
Wealth. Excess. Deception. It's like nothing Ella has ever experienced, and if she's going to survive her time in the Royal palace, she'll need to learn to issue her own Royal decrees.
5) 13 Reasons Why
You can't stop the future. You can't rewind the past. The only way to learn the secret. . . is to press play.
Clay Jensen doesn't want anything to do with the tapes Hannah Baker made. Hannah is dead. Her secrets should be buried with her.
Then Hannah's voice tells Clay that his name is on her tapes-- and that he is, in some way, responsible for her death.
All through the night, Clay keeps listening. He follows Hannah's recorded words throughout his small town. . .
. . .and what he discovers changes his life forever.
4) Vampire Academy
St. Vladimir's Academy isn't just any boarding school—it's a hidden place where vampires are educated in the ways of magic and half-human teens train to protect them. Rose Hathaway is a Dhampir, a bodyguard for her best friend Lissa, a Moroi Vampire Princess. They've been on the run, but now they're being dragged back to St. Vladimir's—the very place where they're most in danger. . . .
Rose and Lissa become enmeshed in forbidden romance, the Academy's ruthless social scene, and unspeakable nighttime rituals. But they must be careful lest the Strigoi—the world's fiercest and most dangerous vampires—make Lissa one of them forever.
3) The Raven Boys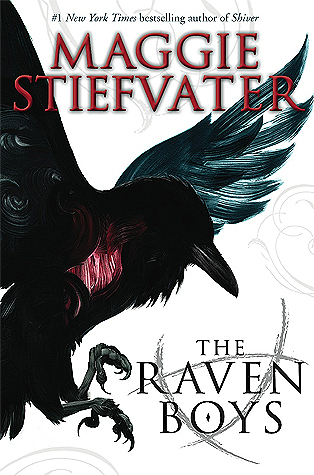 "There are only two reasons a non-seer would see a spirit on St. Mark's Eve," Neeve said. "Either you're his true love . . . or you killed him."
It is freezing in the churchyard, even before the dead arrive.
Every year, Blue Sargent stands next to her clairvoyant mother as the soon-to-be dead walk past. Blue herself never sees them—not until this year, when a boy emerges from the dark and speaks directly to her.
His name is Gansey, and Blue soon discovers that he is a rich student at Aglionby, the local private school. Blue has a policy of staying away from Aglionby boys. Known as Raven Boys, they can only mean trouble.
But Blue is drawn to Gansey, in a way she can't entirely explain. He has it all—family money, good looks, devoted friends—but he's looking for much more than that. He is on a quest that has encompassed three other Raven Boys: Adam, the scholarship student who resents all the privilege around him; Ronan, the fierce soul who ranges from anger to despair; and Noah, the taciturn watcher of the four, who notices many things but says very little.
For as long as she can remember, Blue has been warned that she will cause her true love to die. She never thought this would be a problem. But now, as her life becomes caught up in the strange and sinister world of the Raven Boys, she's not so sure anymore.
From Maggie Stiefvater, the bestselling and acclaimed author of the Shiver trilogy and The Scorpio Races, comes a spellbinding new series where the inevitability of death and the nature of love lead us to a place we've never been before.
2) Alice in Zombieland
She won't rest until she's sent every walking corpse back to its grave. Forever.
If anyone had told Alice Bell that her entire life would change course between one heartbeat and the next, she would have laughed. From blissful to tragic, innocent to ruined? Please. But that's all it took. One heartbeat. A blink, a breath, a second, and everything she knew and loved was gone.
Her father was right. The monsters are real.
To avenge her family, Ali must learn to fight the undead. To survive, she must learn to trust the baddest of the bad boys, Cole Holland. But Cole has secrets of his own, and if Ali isn't careful, those secrets might just prove to be more dangerous than the zombies.
1) Nevermore
Cheerleader Isobel Lanley is horrified when she is paired with Varen Nethers for an English project, which is due—so unfair—on the day of the rival game. Cold and aloof, sardonic and sharp-tongued, Varen makes it clear he'd rather not have anything to do with her either. But when Isobel discovers strange writing in his journal, she can't help but give this enigmatic boy with the piercing eyes another look.
Soon, Isobel finds herself making excuses to be with Varen. Steadily pulled away from her friends and her possessive boyfriend, Isobel ventures deeper and deeper into the dream world Varen has created through the pages of his notebook, a realm where the terrifying stories of Edgar Allan Poe come to life.
As her world begins to unravel around her, Isobel discovers that dreams, like words, hold more power than she ever imagined, and that the most frightening realities are those of the mind. Now she must find a way to reach Varen before he is consumed by the shadows of his own nightmares.