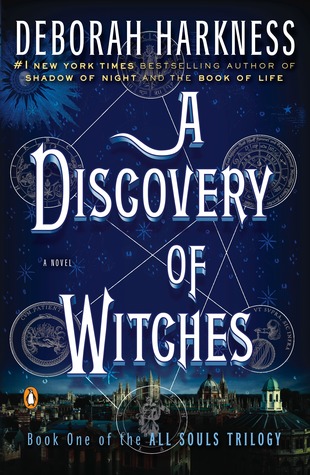 Deep in the stacks of Oxford's Bodleian Library, young scholar Diana Bishop unwittingly calls up a bewitched alchemical manuscript in the course of her research. Descended from an old and distinguished line of witches, Diana wants nothing to do with sorcery; so after a furtive glance and a few notes, she banishes the book to the stacks. But her discovery sets a fantastical underworld stirring, and a horde of daemons, witches, and vampires soon descends upon the library. Diana has stumbled upon a coveted treasure lost for centuries-and she is the only creature who can break its spell.
So this books suffers from what I like to call 'overstuffing'. Where so much is added to this book that is unneeded. So much talk about tea and wine... it really dragged the book for me. Then there were things that didn't have enough explained about them (but I won't mention them as they are spoilers).
I heard somewhere that this book is like Twilight for adults... it kinda felt that way, Matthew is rather like Edward but Diana is not so much like Bella, she actually has a personality. I did get bored with all this book talk... I mean I love books, that's why I'm here, but to read about people hunting for a book? Not that exciting.
It probably sounds like I hated this book but I didn't, there was some parts that I really loved, like Diana at the end where she uses one of her powers, I loved finding out more about her parents, and being a witch myself, I loved reading about the witches.
I bet the next one is going to be better with them being the past and all, so I do plan to continue this series, just not right away.