I read seven books in August... not a lot for me but I've been busy. My daughter is back in Pre-K, I've been substitute teaching when I can find the job. Teaching is no joke! It's really hard, I feel so bad for the teachers who do this. I work three days and my anxiety is on overload.
Anyway, to the books, that's why we are here.
He knows how to score, on and off the ice
Allie Hayes is in crisis mode. With graduation looming, she still doesn't have the first clue about what she's going to do after college. To make matters worse, she's nursing a broken heart thanks to the end of her longtime relationship. Wild rebound sex is definitely not the solution to her problems, but gorgeous hockey star Dean Di Laurentis is impossible to resist. Just once, though, because even if her future is uncertain, it sure as heck won't include the king of one-night stands.
It'll take more than flashy moves to win her over
Dean always gets what he wants. Girls, grades, girls, recognition, girls…he's a ladies man, all right, and he's yet to meet a woman who's immune to his charms. Until Allie. For one night, the feisty blonde rocked his entire world—and now she wants to be friends? Nope. It's not over until he says it's over. Dean is in full-on pursuit, but when life-rocking changes strike, he starts to wonder if maybe it's time to stop focusing on scoring…and shoot for love.
What if you couldn't remember the worst night of your life?
What if you couldn't forget it?
May 13, 1994.
On her thirteenth birthday, newly orphaned Evie, witnesses a brutal attack at the hanging tree. She wakes the next morning on a bus to Los Angeles, dazed and bruised and desperate to remember. Her best friend died that night—she's sure of it. But there's no body, no crime scene, and no witnesses. Twenty three years later, the whole night is still a blur. The murderer, a faceless, nameless man.
Fresh out of a stint in juvie, Butch kills a girl, strangles her. Twenty three years later, he walks out of prison a free man. But a haunted one, the ghost of his past at his heels.
When another body turns up at the hanging tree—a girl, strangled—Evie is certain her lost memory holds the key. Can Butch help her find the faceless man? Or is he hiding the darkest secret of all?
The Hanging Tree is a standalone novel, and the second book in the Doctors of Darkness series.
Why on earth did I not read this sooner!? This author always pulls me into every story that she writes even if it's not normally a genre that I would reach for. this story is dark and full of mystery but the characters are the true shinning stars of her work, they always have been for me and this one is no different. The world building is always great, the writing is wonderful but the characters draw me in and never let me go.
If you love dark stories with a creepy setting and amazing characters, what on earth are you waiting for? Get this novel and hunker down for one amazing thrill ride!
3) The Inner Temple of Witchcraft
Explore your Inner Temple--your personal sacred space where there are no boundaries and all things are possible. With study, dedication, and practice, the lessons and exercises in this book will empower you to transform the repetitive rigors of the daily grind into a witch's web of magickal experiences.
The Inner Temple of Witchcraft is a thorough course of education, introspection, meditation, and the development of the magickal and psychic abilities that are the birthright of the witch. Four introductory chapters present the history, traditions, and principles of witchcraft, followed by thirteen lessons that start with basic meditation techniques and culminate in a self-initiation ceremony equivalent to the first-degree level of traditional coven-based witchcraft.
As you progress through this year-and-a-day course of study, you will explore a wide range of topics that support and inform the dedicated witch:
Ancient and modern magickal philosophy Modern scientific theories supporting a new definition of reality "Instant" magick techniques for protection, healing, and serenity Energy work and anatomy, including chakras and auras Astral travel, dreams, and spirit guides Healing techniques for body, mind, and spirit This book's non-dogmatic presentation encourages an eclectic, personal approach while providing a strong foundation for the practice of witchcraft and magick. Develop your psychic abilities and practice potent magickal techniques as you explore the source of every witch's power--the temple within.
4) Haunted Castles of England
The sprawling, mysterious castles of England are incredible sights to behold, but even more captivating are the ghosts that dwell within them. This book invites you to explore more than eighty English castles and meet the spirits that roam their grounds, from the tallest towers to the deepest tunnels.
Discover fascinating stories, photos, and eye-witness accounts of hauntings across England, from the Tower of London to Oxford Castle to Castle Keep. Experience ghoulish prisoners rattling their chains, ghostly maidens in shimmering gowns, and gallant knights charging on their spectral steeds. Organized by region, Haunted Castles of England provides the history of each structure, reported hauntings, and more.
I love how this book started! It really put me into the creepy mindset and had me looking over my shoulder (I read this whole book before bed). I could not put it down! I loved reading about all the creepy places and long to go visit one. If you love ghosts, then you'll love this, the pictures just add to the creepy factor. You can tell this book is very well researched and written in a way that just pulls you in and doesn't let you go. I was trying to save this for closer to Halloween but I just couldn't stop once I started.
Thanks to NetGalley for this book in exchange for an honest review.
Everything You Need to Know About Candle Magic, from Best Selling Wicca Author Lisa Chamberlain
Do you want to enhance your life by using magic to tap into the unbound power of the Universe? If so, you're in the right place.
Wiccans and other Witches have long known that candles are a great tool for performing magic. Perhaps one of the oldest magical arts, candle magic is also the easiest and most simple form of magic for beginners to learn. This makes it the ideal starting point for anyone looking to start practicing Witchcraft.
But, whether you're Wiccan, Witch, or just curious about magic, you are more than welcome here!
6) Essential Oils for Emotional Wellbeing
Since ancient times, essential oils have been used to address a wide variety of mental, emotional, and spiritual needs. Bring this knowledge that has been gathered through the ages into your modern life. Featuring more than 400 step-by-step recipes, Essential Oils for Emotional Wellbeing makes it easy for you to take control of your wellness and spiritual journey.
Finding the recipes you need is simple with this book's well-organized categories based on conditions, emotions, needs, desires, or devotion. Learn how to store oils, what their therapeutic properties and warnings are, and how to best use each one for a specific need. The featured recipes include everything from lotions, ointments, and bath bombs to diffuser scents, powders, rubs, salves, and sprays.
This book isn't really one you read cover to cover, it does give the history of oils and how to use them but still it's full of amazing recipes for essential oils! If you like essential oils, then you'll love this! It's got recipes for depression, anxiety, nightmares, and even paranoia. It's also got other good things as well like passion, love, balance, luck, and peace.
I'm going to share one of my favorites for balance.
It's a bath salt recipe.
6 drops of vetiver oil
6 drops of jasmine oil
6 drops of clary sage oil
2 drops of lavender oil
3 cups of salt
1 tablespoon carrier oil
1 tablespoon of milk
Any salt type is fine to use for this, add all the oils together with the salt and make sure it's well blended. Leave the mixture in a dark area for 24 hours and then stir it again. When ready, add the bath water and the milk and 1/2 cup of your bath salt and there you go! Let the mixture seep into your skin and help you bring balance to your life.
*Thanks to NetGalley for this title in exchange for an honest review*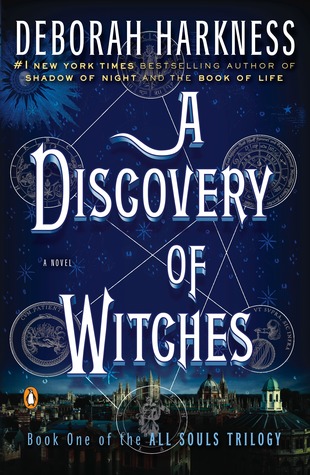 7) A Discovery of Witches
Deep in the stacks of Oxford's Bodleian Library, young scholar Diana Bishop unwittingly calls up a bewitched alchemical manuscript in the course of her research. Descended from an old and distinguished line of witches, Diana wants nothing to do with sorcery; so after a furtive glance and a few notes, she banishes the book to the stacks. But her discovery sets a fantastical underworld stirring, and a horde of daemons, witches, and vampires soon descends upon the library. Diana has stumbled upon a coveted treasure lost for centuries-and she is the only creature who can break its spell.
So this books suffers from what I like to call 'overstuffing'. Where so much is added to this book that is unneeded. So much talk about tea and wine... it really dragged the book for me. Then there were things that didn't have enough explained about them (but I won't mention them as they are spoilers).
I heard somewhere that this book is like Twilight for adults... it kinda felt that way, Matthew is rather like Edward but Diana is not so much like Bella, she actually has a personality. I did get bored with all this book talk... I mean I love books, that's why I'm here, but to read about people hunting for a book? Not that exciting.
It probably sounds like I hated this book but I didn't, there was some parts that I really loved, like Diana at the end where she uses one of her powers, I loved finding out more about her parents, and being a witch myself, I loved reading about the witches.
I bet the next one is going to be better with them being the past and all, so I do plan to continue this series, just not right away.