I read eight books during the month of October. Which doesn't seem like a lot for me but I've been writing lots, getting ready for NaNoWriMo and just living life during one of the best times of the year.
1) Josh and Hazel's Guide to Not Dating
Hazel Camille Bradford knows she's a lot to take—and frankly, most men aren't up to the challenge. If her army of pets and thrill for the absurd don't send them running, her lack of filter means she'll say exactly the wrong thing in a delicate moment. Their loss. She's a good soul in search of honest fun.
Josh Im has known Hazel since college, where her zany playfulness proved completely incompatible with his mellow restraint. From the first night they met—when she gracelessly threw up on his shoes—to when she sent him an unintelligible email while in a post-surgical haze, Josh has always thought of Hazel more as a spectacle than a peer. But now, ten years later, after a cheating girlfriend has turned his life upside down, going out with Hazel is a breath of fresh air.
Not that Josh and Hazel date. At least, not each other. Because setting each other up on progressively terrible double blind dates means there's nothing between them...right?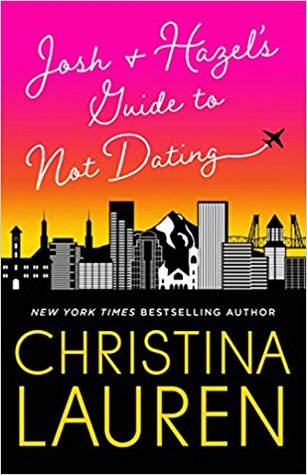 My Thoughts
I have this weird hate/love relationship with these authors. I like the story they tell and the humor behind it but some of the elements always have me rolling my eyes and laughing... but not at the good humor. Though once I push through those things that irate me, the story is always funny, sweet, and just a cute feel good romance.
The females are always strong and sure of themselves but sometimes the guys are a little... icky. Josh isn't bad, I actually like that he's cool with Hazel and all her many quirks. Their romance is cute and I loved reading about their many bad double dates.
Really, once I get over the parts that make me roll my eyes, I do always end up enjoying the story and devour it within a day.
2) Pisces Hooks Taurus
It's a time for searching, and a time for finding, Pisces: keep casting your line and you will hook what you're looking for.
Zane has it all planned out: land the perfect Meet Cute, fall in love, and live happily ever after.
Should be simple enough if he put his mind to it. A little creativity and some thinking outside of the box, and voila, he'd be married to the woman of his dreams.
It would be perfect.
And it would be before his visa ran out.
But why are his feelings running wild now that the pressure's on? Why is his picture-perfect plan turning into a muddled mess of morphed metaphors he can't make sense of anymore?
Just as well he's met an English professor to help. And even though their first meet is anything but cute, this down-to-earth teacher may just be the realist Zane needs to ground him and give him a shot at love after all.
Don't cast your line too wide, Pisces. Your perfect catch may already have bitten.
3) Knight Training
The Special Forces of Steampunk! Airships, Guns, and Gadgets! The Knights of the Crystal Spire are more than ordinary fantasy knights.
Life as an apprentice knight hasn't been easy on James Gentry. As a commoner and an outsider, he's been ridiculed, picked on, and shunned by the other boys. But he's determined to become one of the finest knights Rislandia has ever seen.
During his training, James stumbles upon a master knight selling information on Rislandian troop movements to a Wyranth spy. To keep Rislandia safe, he must root out the traitor and put a stop to the enemy's schemes. Does he have what it takes?
"Knight Training" is a stand-alone sequel novella to the award-winning steampunk novel, For Steam And Country!
My Thoughts
That's not have any spoilers as this is something you should just read, it's short, less than 100 pages so it won't take you long at all. James is an apprentice knight who is amazing at what he does, one of the best and while you'd think that'd be great, it means others in this line of work, aren't that found of him and it makes his life kinda hard.
Anyone who has even been the teacher's pet or a favorite of any kind can totally relate to James and his struggles. I love him as a character and think he's very well done, even more so considering how short this story is. I really only have one complaint... it's too short! I mean yes, everything is tied together nicely and it's a perfect short story but when I love something, I need more and this is how I feel. I need more.
Overall, it's a fun story that will take your mind off your problems and pull you in, refusing to let you go. I fully recommend this whole series!
4) Cursed Rebel
Never trust a pretty face. My grandma taught me that. She warned me about the Fair Folk but I never believed her...until I was kidnapped by one. And damn, he is pretty.
But Fin was sent to bring me to his King, and if I want to survive the Otherworld, I have no choice but to trust him - for now.
Oh, and did I mention my sexy best friend is hunting me? I should've listened to Gran.
5) Witches of East End
From the author of the highly addictive and bestselling Blue Bloods series, with almost 3 million copies sold, comes a new novel, Melissa de la Cruz's first for adults, featuring a family of formidable and beguiling witches.
The three Beauchamp women--Joanna and her daughters Freya and Ingrid--live in North Hampton, out on the tip of Long Island. Their beautiful, mist-shrouded town seems almost stuck in time, and all three women lead seemingly quiet, uneventful existences. But they are harboring a mighty secret--they are powerful witches banned from using their magic. Joanna can resurrect people from the dead and heal the most serious of injuries. Ingrid, her bookish daughter, has the ability to predict the future and weave knots that can solve anything from infertility to infidelity. And finally, there's Freya, the wild child, who has a charm or a potion that can cure most any heartache.
For centuries, all three women have been forced to suppress their abilities. But then Freya, who is about to get married to the wealthy and mysterious Bran Gardiner, finds that her increasingly complicated romantic life makes it more difficult than ever to hide her secret. Soon Ingrid and Joanna confront similar dilemmas, and the Beauchamp women realize they can no longer conceal their true selves. They unearth their wands from the attic, dust off their broomsticks, and begin casting spells on the townspeople. It all seems like a bit of good-natured, innocent magic, but then mysterious, violent attacks begin to plague the town. When a young girl disappears over the Fourth of July weekend, they realize it's time to uncover who and what dark forces are working against them.
With a brand-new cast of characters, a fascinating and fresh world to discover, and a few surprise appearances from some of the Blue Blood fan favorites, this is a page-turning, deliciously fun, magical summer read fraught with love affairs, witchcraft, and an unforgettable battle between good and evil.
Review Coming Soon!
6) Llewellyn's Little Book of Life Between Lives
Explore exciting new case studies and research findings from the world-famous Newton Institute(R). This handy pocket-size book provides an introduction to Life Between Lives, regression hypnotherapy, past life regression, and reincarnation. Discover simple exercises designed to help you make contact with a higher wisdom for answers to your questions and guidance in developing the life you were meant to live. In these pages, you will find expert advice, tips, and techniques for your own journey of spiritual self-discovery. Llewellyn's Little Book of Life Between Lives also explores soul groupings, the Council of Elders, the process of life selection, soul development, and much more. In a warm and wonderful way, this book confirms what many of us suspect--at the end of life, a home filled with everlasting, unconditional love awaits you.
7) Code Wolf
A Were's forbidden desire tests the limits of loyalty. When Seattle detective and alpha werewolf Derek Miller meets Riley Price, the bond is instant. Feral. Their connection entails enormous risk, for he must keep the existence of his kind secret at all costs. But the forces of darkness have Riley in their sights. Now Derek must choose between the Were code of silence and saving the woman who's set him on fire.
8) Slave to Sensation
Nalini Singh dives into a world torn apart by a powerful race with phenomenal powers of the mind-and none of the heart.
In a world that denies emotions, where the ruling Psy punish any sign of desire, Sascha Duncan must conceal the feelings that brand her as flawed. To reveal them would be to sentence herself to the horror of "rehabilitation" - the complete psychic erasure of everything she ever was...
Both human and animal, Lucas Hunter is a changeling hungry for the very sensations the Psy disdain. After centuries of uneasy coexistence, these two races are now on the verge of war over the brutal murders of several changeling women. Lucas is determined to find the Psy killer who butchered his packmate, and Sascha is his ticket into their closely guarded society. But he soon discovers that this ice-cold Psy is very capable of passion - and that the animal in him is fascinated by her. Caught between their conflicting worlds, Lucas and Sascha must remain bound to their identities - or sacrifice everything for a taste of darkest temptation.
Review Coming Tomorrow!


So what did you guys read? Have you read any of these novels? Let me know below and as always, have a wonderful day!