What is 50/50 Friday?
Everyone has a favorite and then we also have something we dislike. Like a coin, there are two sides to every question. Example: best sequel you've read/worst sequel you've read. So that's what 50/50 Friday is all about. We will have a new topic every Friday. If you have have ideas for this meme don't be scared to let us know!
Topic for the Week
Best/Worst Read in October
I didn't read a lot this month, I've been preparing for NaNoWriMo and just editing my novel. It's almost to the point where I'm going to start shipping it out to publishers. So I've been very busy but I did manage to read some great books! Also I read one that just wasn't my cup of tea which sucked because I LOVE the author. Anyway, without anymore stalling, let's just jump into this!
I read two books that I really enjoyed this month.
Zane has it all planned out: land the perfect Meet Cute, fall in love, and live happily ever after.
Should be simple enough if he put his mind to it. A little creativity and some thinking outside of the box, and voila, he'd be married to the woman of his dreams.
It would be perfect.
And it would be before his visa ran out.
But why are his feelings running wild now that the pressure's on? Why is his picture-perfect plan turning into a muddled mess of morphed metaphors he can't make sense of anymore?
Just as well he's met an English professor to help. And even though their first meet is anything but cute, this down-to-earth teacher may just be the realist Zane needs to ground him and give him a shot at love after all.
Review Coming Soon!
Nalini Singh dives into a world torn apart by a powerful race with phenomenal powers of the mind-and none of the heart.
In a world that denies emotions, where the ruling Psy punish any sign of desire, Sascha Duncan must conceal the feelings that brand her as flawed. To reveal them would be to sentence herself to the horror of "rehabilitation" - the complete psychic erasure of everything she ever was...
Both human and animal, Lucas Hunter is a changeling hungry for the very sensations the Psy disdain. After centuries of uneasy coexistence, these two races are now on the verge of war over the brutal murders of several changeling women. Lucas is determined to find the Psy killer who butchered his packmate, and Sascha is his ticket into their closely guarded society. But he soon discovers that this ice-cold Psy is very capable of passion - and that the animal in him is fascinated by her. Caught between their conflicting worlds, Lucas and Sascha must remain bound to their identities - or sacrifice everything for a taste of darkest temptation.
Worst Read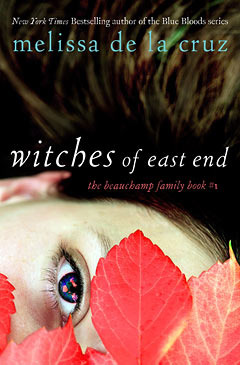 I went in thinking this would be an awesome book about witches but then in the end they're also Norse Gods and Goddesses and while I love that kind of stuff, it just felt weird in this novel. It just wasn't up my alley but I still fully recommend the Blue Blood series but this author for sure!
Topic for Next Week
Favorite/Least Favorite Book Written before the year 2000