So if you've been around here for any length of time, you'll know that I love romance. Not just the romance genre but romance in general. I usually love when romance is a subplot because I do need my action to keep me going. Which is one one of my favorite books of all time is A Court of Mist and Fury, romance heavy but it still has another plot going on.
That being said, I still do read just plain ld romance books too. Sometimes, I just want to sit back and watch the love fly. So today, we are going to be talking about my six favorite romance troupes, in romance books or just romance at all. These aren't really in any order at all, just the ones I love most. So, here we go!
____________________________________________________________________
6) Enemies to Lovers
I just love watching the characters go from hating each others guts to falling head over heels in love with each other. It sucks me in and refuses to let me go until something gives, because usually when it finally explodes, it's just a perfect mess of love.
Example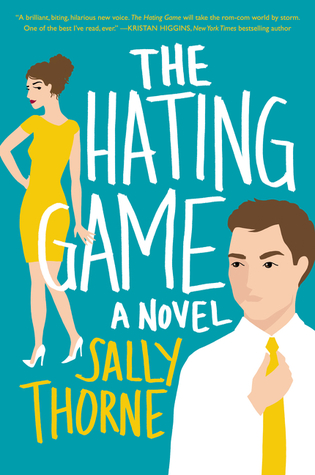 Lucy Hutton and Joshua Templeman hate each other. Not dislike. Not begrudgingly tolerate. Hate. And they have no problem displaying their feelings through a series of ritualistic passive aggressive maneuvers as they sit across from each other, executive assistants to co-CEOs of a publishing company. Lucy can't understand Joshua's joyless, uptight, meticulous approach to his job. Joshua is clearly baffled by Lucy's overly bright clothes, quirkiness, and Pollyanna attitude.
Now up for the same promotion, their battle of wills has come to a head and Lucy refuses to back down when their latest game could cost her her dream job…But the tension between Lucy and Joshua has also reached its boiling point, and Lucy is discovering that maybe she doesn't hate Joshua. And maybe, he doesn't hate her either. Or maybe this is just another game.
5) Slow Burn
Yes! Slow burn is just amazing! It keeps me on the edge of my seat, just praying that something happens and they just finally kiss already! It's one of the best romance troupes to keep me reading way late into the night because I just have to make it to the point where they finally see the truth.
Example
A new person will enter your life in the early year, Leo. Look past any moments of frustration they might bring and laugh—this could be the start of a thriving friendship.
Theo Wallace usually laughs at the horoscopes his mom sends. Still hung up on his ex-girlfriend and practically friendless, this one begs him to reconsider. Because a friendship that stuck, that thrived…
Well, that would be a reason to leave past pains behind and look to the Bright Future.
When his sister Leone challenges him to find her the perfect date for a spring wedding, Theo uses it as a chance to make new friends. Theo's ex economics tutor and newest roommate Mr Jamie Cooper seems to be a possible and convenient match. Real convenient. Like written in the stars, convenient.
All he has to do is make sure this Jamie is good enough. Could really be the one for her, and the friend for him.
But watch out, Leo, the stars have a surprise in store…
4) Fake Relationship
I love when our two lovers are forced to come together and fake being in love and then it turns into actual love by the end and it took forever for them to see it and I'm just screaming at the book for them to wake up and pay attention to their feelings.
Example
When Gia Montgomery's boyfriend, Bradley, dumps her in the parking lot of her high school prom, she has to think fast. After all, she'd been telling her friends about him for months now. This was supposed to be the night she proved he existed. So when she sees a cute guy waiting to pick up his sister, she enlists his help. The task is simple: be her fill-in boyfriend—two hours, zero commitment, a few white lies. After that, she can win back the real Bradley.
The problem is that days after prom, it's not the real Bradley she's thinking about, but the stand-in. The one whose name she doesn't even know. But tracking him down doesn't mean they're done faking a relationship. Gia owes him a favor and his sister intends to see that he collects: his ex-girlfriend's graduation party—three hours, zero commitment, a few white lies.
Just when Gia begins to wonder if she could turn her fake boyfriend into a real one, Bradley comes waltzing back into her life, exposing her lie, and threatening to destroy her friendships and her new-found relationship.
3) Forbidden Love
They love each other so much but they can't be together! Oh no! We've all read a book that has this troupe it's one that's very popular and with good reason.... it's great! We can't help but to cheer on our couple through everything they face down just to be together.
Example
St. Vladimir's Academy isn't just any boarding school—it's a hidden place where vampires are educated in the ways of magic and half-human teens train to protect them. Rose Hathaway is a Dhampir, a bodyguard for her best friend Lissa, a Moroi Vampire Princess. They've been on the run, but now they're being dragged back to St. Vladimir's—the very place where they're most in danger. . . .
Rose and Lissa become enmeshed in forbidden romance, the Academy's ruthless social scene, and unspeakable nighttime rituals. But they must be careful lest the Strigoi—the world's fiercest and most dangerous vampires—make Lissa one of them forever.
2) Alpha Male
I also love when that Alpha male is so protective of his girl and just keeps her safe from everything. I know this one isn't for everyone but I do like it.
Example
In a world that denies emotions, where the ruling Psy punish any sign of desire, Sascha Duncan must conceal the feelings that brand her as flawed. To reveal them would be to sentence herself to the horror of "rehabilitation" - the complete psychic erasure of everything she ever was...
Both human and animal, Lucas Hunter is a changeling hungry for the very sensations the Psy disdain. After centuries of uneasy coexistence, these two races are now on the verge of war over the brutal murders of several changeling women. Lucas is determined to find the Psy killer who butchered his packmate, and Sascha is his ticket into their closely guarded society. But he soon discovers that this ice-cold Psy is very capable of passion - and that the animal in him is fascinated by her. Caught between their conflicting worlds, Lucas and Sascha must remain bound to their identities - or sacrifice everything for a taste of darkest temptation.
1) Love Triangle
I know, you're al thinking, NO!!!! How could you?! But hear me out, if a love triangle is done well, do you not just love it? Rooting for your chosen one to win the heart of their love? Yeah, thought so.
Example
A DEADLY LOVE TRIANGLE
Elena: the golden girl, the leader, the one who can have any boy she wants.
Stefan: brooding and myterious, he seems to be the only one who can resist Elena, even as he struggles to protect her from the horrors that haunt his past.
Damon: sexy, dangerous, and driven by an urge for revenge against Stefan, the brother who betrayed him. Determined to have Elena, he'd kill to possess her.
Collected here in one volume for the first time, volumes one and two of The Vampire Diaries, the tale of two vampire brothers and the beautiful girl torn between them.
___________________________________________________________________
I had so much fun putting this list together and I hope you enjoyed reading it. Let me know your favorite romance troupe below and have a great day!