I read around 230 books in 2018 and I read some great ones and some that just made me roll my eyes and wish I could get my time back. So today, we are going to talk about the ones that just weren't my cup of tea. I will be including my DNFs even though I didn't actually read the whole book, they were still awful reads in my opinion. I do want to say that just because I didn't like these novels, doesn't mean you shouldn't like them. Everyone has different tastes and that's the wonderful thing about books, there is something for everyone!
All of these books are either one star or DNFs. Let's just jump into it!
Witch Fire - DNF
Passion is all consuming...
Mira Hoskins doesn't know she's a natural-born witch who possesses the rare—and powerful—element of air. And she never expects to find herself tied to a mahogany bed frame, captive of a man who aches to fulfill her every desire and let loose the magick that dwells inside her.
Heat emanates from elemental fire witch Jack McAllister. The Coven, a governing authority of witches, has sent him to protect Mira from a band of warlocks who drain witches of power...and life. Long ago, he saw Mira's parents murdered by this same dark magick. He'd like to quell his guilt and offer her everything she deserves. But she's the long-lost cousin of his boss—making seduction off-limits.
With Jack's strong guidance, Mira is luring forth her inner magick. But his sense of duty is quickly swelling into insatiable hunger. He was warned about the natural attraction between air and fire. Now he risks being consumed by the woman he shouldn't want—but can't stay away from.
______________________________________
I read almost 50 pages and I never found any romance. There was just so much freaking lust and like sixty different words for vagina that I got so damn bored. There was no romance, Mira is insane for wanting to sleep with a dude who tries her down all night even when he says he just wants to protect her. Yeah... he doesn't know how to get a girl to trust him. If I had to read one more time how freaking hot they were for each other, I was going to lose it. My partner and I got a good laugh out of once of the scenes though, so there's that. He couldn't believe how bad it was either. Also... plot wise, well, not much plot from what I read, his father is the reason her parents are dead and he was out to protect her because he felt bad, also he really wants to sleep her and she really wants to sleep with him.
Defying Pack Law - One Star
Pack Law states she must have more than one mate.
Like Hell.
Rather than be forced into a mating with more than one man, Dana flees the pack. Flees everything she knows, everyone she loves. She lives on the run and can't seem to find happiness.
All that changes the day her first love, Nathan, finds her and brings her back home. He's not letting her go, not again. As alpha, he now makes the rules and he's decided to hell with the laws, he wants Dana.
Except Dana's changed since she left. Maybe the pack ways aren't so bad after all and when she decides to accept fate... she finds love times three.
_______________________________________
I really don't know what I was thinking when I decided to read this. I really don't.
The End Zone - One Star
Jolie Louis is a smart girl.
She knows that her best friend, Sage Poirier, is a bad idea.
He's a walking, talking cliché. The Adonis quarterback with the bulging biceps and harem of fangirls trailing behind him on campus like a stench you can't get rid of.
Sadly, that's also the reason she can't stay away from him.
Well, that and the fact that they're roommates.
Jolie is already straddling the line between friendship and more when Sage comes to her with an offer she cannot refuse: be his fake girlfriend and live for free for the rest of the semester.
She tells herself that she can handle it.
He's just the boy she saved ten years ago, right?
Wrong. So very wrong.
He is a man now, and she is his captive Heart, body, and soul…
___________________________________________
I remember how I didn't like the writing style or just the overall style of the story.
The Way You Make Me Feel - DNF
From the author of I Believe in a Thing Called Love, a laugh-out-loud story of love, new friendships, and one unique food truck.
Clara Shin lives for pranks and disruption. When she takes one joke too far, her dad sentences her to a summer working on his food truck, the KoBra, alongside her uptight classmate Rose Carver. Not the carefree summer Clara had imagined. But maybe Rose isn't so bad. Maybe the boy named Hamlet (yes, Hamlet) crushing on her is pretty cute. Maybe Clara actually feels invested in her dad's business. What if taking this summer seriously means that Clara has to leave her old self behind?
With Maurene Goo's signature warmth and humor, The Way You Make Me Feel is a relatable story of falling in love and finding yourself in the places you'd never thought to look.
_____________________________________________
Sorry, Clara is too much of a brat to me and I just couldn't like her character. I'm one of those people that has to like the character in order to like the book. The prom scene just did me in, it was too much, too... I don't even have words, I just thought it was stupid. I wish we could've followed Rose as I actually liked her a lot and would've kept reading if we had been following her.
Witch: Unleashed. Untamed. Unapologetic. - DNF
A witch is a wise woman, a healer. Yet for so long the word "witch" has had negative connotations. In this book, third generation hereditary witch Lisa Lister explains the history behind witchcraft, why identifying as a healer in past centuries led women to be burned at the stake, and why the witch is reawakening in women across the world today.
All women are witches, and when they connect to source, trust their intuition, and use their magic, they can make medicine to heal themselves and the world. This book is a re-telling of Herstory, an overview of the different schools of witchcraft and the core principles and practices within them. Discover ancient wisdom made relevant for modern witches:
The wheel of the year, the sabbats, the cycles of the moon.
Tools to enhance your intuition, including oracle cards and dowsing, so that you can make decisions quickly and comfortably.
Understanding the ancient use of the word "medicine".
How to work with herbs, crystals, and power animals so that you have support in your spiritual work.
How to build and use a home altar to focus your intentions and align you with seasonal cycles, the moon cycles, and your own intentions for growth.
Cleanse, purify, and create sacred space.
Work with the elements to achieve deep connection with the world around you.
In addition, Lisa teaches personal, hands-on rituals and spells from her family lineage of gypsy witch magic to help you heal, manifest, and rediscover your powers. Above all, Lisa shows that we really are "the granddaughters of the witches that they couldn't burn".
__________________________________
This is the first book on this topic that I have never finished but it was just so nasty with the way it went on, that I just couldn't stand behind it.
Seven Black Diamonds - DNF
Lilywhite Abernathy is a criminal. Her father's "unconventional" business has meant a life of tightly held secrets, concealed weaponry, and a strict code. But Lily's crime isn't being the daughter of a powerful mob boss. Her guilt lies in the other half of her DNA—the part that can coax ancient rumors from stones and summon fire with a thought. Lily is part fae, which is a crime in her world.
From the time before she was born, a war has been raging between humanity and fae. The Queen of Blood and Rage, ruler of both the Seelie and Unseelie courts, wants to avenge the tragic death of her heir—a death that was the fault of reckless humans.
Lily's father has shielded her from the repercussions of her ancestry…until she is sent to the prestigious St. Columba's school, straight into the arms of the Black Diamonds.
Mysterious, glamorous, and bound together in their mission but constantly at odds, Zephyr, Creed, Will, Roan, Violet, and Alkamy are a Sleeper cell of fae, planted in the human world to help destroy it from within. With covers as rock stars and celebrity children, the Black Diamonds carry out the queen's war against humanity. And unbeknownst to Lilywhite, she's been chosen to join them.
Now more than ever, Lily's heritage puts her in peril, and even the romantic attention of the fae singer Creed Morrison isn't enough to keep Lily from wanting to run back to the safer world of organized crime.
Melissa Marr returns to faery in a dramatic story of the precarious space between two worlds and the people who must thrive there.
___________________________________________
Just not my cup of tea.
Catwoman - DNF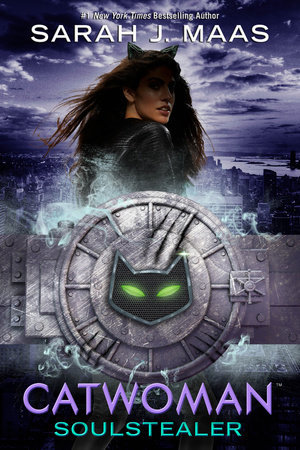 When the Bat's away, the Cat will play. It's time to see how many lives this cat really has. . . .
Two years after escaping Gotham City's slums, Selina Kyle returns as the mysterious and wealthy Holly Vanderhees. She quickly discovers that with Batman off on a vital mission, Batwing is left to hold back the tide of notorious criminals. Gotham City is ripe for the taking.
Meanwhile, Luke Fox wants to prove he has what it takes to help people in his role as Batwing. He targets a new thief on the prowl who seems cleverer than most. She has teamed up with Poison Ivy and Harley Quinn, and together they are wreaking havoc. This Catwoman may be Batwing's undoing.
____________________________
I know.... one of my favorite authors wrote a book and I didn't make it through! It's crazy! Honestly, I just didn't like some of the things she decided to add... it just seems forced in some areas, not my thing at all.
So this is the end of my worst reads of 2018. Thankfully there wasn't as many as I thought. Which means I had a lot more awesome reads in 2018. Hopefully 2019 is even better! As always, have a great day and happy reading!