What is 50/50 Friday?
Everyone has a favorite and then we also have something we dislike. Like a coin, there are two sides to every question. Example: best sequel you've read/worst sequel you've read. So that's what 50/50 Friday is all about. We will have a new topic every Friday. If you have have ideas for this meme don't be scared to let me know!
Topic for the Week
Best/Worst Read in February
So for February I read only a few books but I did enjoy every single thing I read. So there really is no worst read this month. Instead, I'm going to share the few books I did read and love. Everything is rated either four or five stars.
Fence Volume 2
The tension is building ever so slowly but just enough to keep me happily sucked into the story.
Nicholas Cox is determined to prove himself in the world of competitive fencing, and earn his place on the Kings Row fencing team, alongside sullen fencing prodigy, Seiji Katayama, to win the right to go up against his golden-boy half-brother.
Tryouts are well underway at King's Row for a spot on the prodigious fencing team, and scrappy fencer Nicholas isn't sure he's going to make the grade in the face of surly upperclassmen, nearly impossibly odds, and his seemingly unstoppable roommate, the surly, sullen Seiji Katayama. It'll take more than sheer determination to overcome a challenge this big!
From the superstar team of C.S. Pacat (The Captive Prince) and fan-favorite artist Johanna the Mad comes the second volume of this acclaimed, dynamic series.
________________________________________
Vikings: Godhead
Not as good as the show but I still enjoyed it!
From the chronicles of the History Channel's truly epic series comes a new saga of glory and plunder! A brand new graphic novel featuring Ragnar, Lagertha and their legendary kin!
________________________________________
The Darkest Star
Okay, let's be honest here. Let's just get everything out in the open, shall we? No one and I mean no one is every going to replace Katy and Daemon. Never. That being said, I really like Luc. I've been interested in his character since I read the Lux series. Evie on the other hand... seems a little bland me to me. She's a perfectly fine character and I liked following her around. I loved getting to see her reactions to the big secrets and I loved the little bits of Daemon we got and meeting all these new characters.
I just loved being back in this world again, even if it feels like everything has changed. Sometimes it felt like this new Lux story world mirrored ours in ways that just left a sour taste in my mouth. I read to escape the horrid world in which I live in, not to see glimpses of it through a different lens. I know not everything everything this way and so I knocked no stars for it. Because this is al personal opinions.
Now, I really liked the friendship moments we got in here, you could see that Evie had some great friends and I loved how everyone seemed to work so perfectly together. It's nice to see the man that Luc is growing into, poor guy had been through way too much in his short life and I like that he can still laugh and smile through it.
Evie also went through a lot and really overall, I thought she handled it well. All the characters were great as any JLA book and the dialogue was great, there was even a little banter between our two leads. I also think that if you've never read the Lux series, you could jump into this one with no issues but I FULLY recommend reading the Lux series first as it's breathtakingly amazing!
My only real compliant with this story is just.... the feel of it. Maybe this is also just me but the world in this book just felt less vivid than the pervious one. None of the places really stood out as much in my mind. The Club, her home and Luc's apartment were all that really stood out.
Anyway, I'm knit-picking now, overall, I loved reading this, powered through it in only two days. Laughed my butt off at certain parts and gasped in others when something twisty happened. If you're looking for a fun read with some freaking great characters, grab this book! I can't believe I waited so long to read it.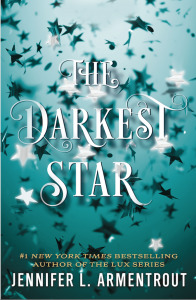 When seventeen-year-old Evie Dasher is caught up in a raid at a notorious club known as one of the few places where humans and the surviving Luxen can mingle freely, she meets Luc, an unnaturally beautiful guy she initially assumes is a Luxen...but he is in fact something much more powerful. Her growing attraction for Luc will lead her deeper and deeper into a world she'd only heard about, a world where everything she thought she knew will be turned on its head...
________________________________________
Bonds of Justice
This one ended differently than what I was expecting and that's not a bad thing! I can't wait to see where this series goes from here.
A Psy-Changeling novel from the New York Times bestselling author of Shards of Hope, Shield of Winter, and Heart of Obsidian..."the alpha author of paranormal romance" (Booklist).
Max Shannon is a good cop, one of the best in New York Enforcement. Born with a natural shield that protects him against Psy mental invasions, he knows he has little chance of advancement within the Psy-dominated power structure.
The last case he expects to be assigned to is that of a murderer targeting a Psy Councilor's closest advisors. And the last woman he expects to compel him in the most sensual of ways is a Psy on the verge of catastrophic mental fracture...
___________________________________________
The Darkest Night
I've been getting back into paranormal romance and I've been loving it. This genre is my true home and I'm always happy when reading it. So that meant I had to try this series. I read this book years ago, so long ago that I didn't remember much at all. So I decided to reread before jumping into the whole series.
Now, this one follows Ashlyn and Maddox. Ashlyn is pretty bland at first but she develops nicely as we got through the book and Maddox pretty much stays the same, just learns to control his demon. Now, the romance in here wasn't as much as I thought it would be. For a romance book, it's pretty plot heavy, which is great if that's what you're looking for.
Overall, I can't wait to read the rest of this series as I heard it keeps getting better. Plus, there are other characters that I can't wait to follow!
Though they carry an eternal curse, the Lords of the Underworld are irresistibly seductive—and unimaginably powerful… Don't miss a single book in this stunning paranormal series from New York Times bestselling author Gena Showalter!
All her life, Ashlyn Darrow has been tormented by voices from the past. To end the nightmare, she has come to Budapest seeking help from men rumored to have supernatural abilities, not knowing she'll be swept into the arms of Maddox, their most dangerous member—a man trapped in a hell of his own.
Neither can resist the instant hunger that calms their torments…and ignites an irresistible passion. But every heated touch and burning kiss will edge them closer to destruction—and a soul-shattering test of love…
___________________________________________
Topic for Next Week
Dystopian World You'd Want to Live In/Not Live In