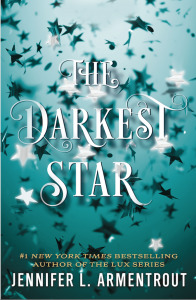 When seventeen-year-old Evie Dasher is caught up in a raid at a notorious club known as one of the few places where humans and the surviving Luxen can mingle freely, she meets Luc, an unnaturally beautiful guy she initially assumes is a Luxen...but he is in fact something much more powerful. Her growing attraction for Luc will lead her deeper and deeper into a world she'd only heard about, a world where everything she thought she knew will be turned on its head...
#1 New York Times, USA Today, and internationally bestselling author Jennifer L. Armentrout returns to the universe of the Lux in this brand new series, featuring beloved characters both new and old.
Okay, let's be honest here. Let's just get everything out in the open, shall we? No one and I mean no one is every going to replace Katy and Daemon. Never. That being said, I really like Luc. I've been interested in his character since I read the Lux series. Evie on the other hand... seems a little bland me to me. She's a perfectly fine character and I liked following her around. I loved getting to see her reactions to the big secrets and I loved the little bits of Daemon we got and meeting all these new characters.
I just loved being back in this world again, even if it feels like everything has changed. Sometimes it felt like this new Lux story world mirrored ours in ways that just left a sour taste in my mouth. I read to escape the horrid world in which I live in, not to see glimpses of it through a different lens. I know not everything everything this way and so I knocked no stars for it. Because this is al personal opinions.
Now, I really liked the friendship moments we got in here, you could see that Evie had some great friends and I loved how everyone seemed to work so perfectly together. It's nice to see the man that Luc is growing into, poor guy had been through way too much in his short life and I like that he can still laugh and smile through it.
Evie also went through a lot and really overall, I thought she handled it well. All the characters were great as any JLA book and the dialogue was great, there was even a little banter between our two leads. I also think that if you've never read the Lux series, you could jump into this one with no issues but I FULLY recommend reading the Lux series first as it's breathtakingly amazing!
My only real compliant with this story is just.... the feel of it. Maybe this is also just me but the world in this book just felt less vivid than the pervious one. None of the places really stood out as much in my mind. The Club, her home and Luc's apartment were all that really stood out.
Anyway, I'm knit-picking now, overall, I loved reading this, powered through it in only two days. Laughed my butt off at certain parts and gasped in others when something twisty happened. If you're looking for a fun read with some freaking great characters, grab this book! I can't believe I waited so long to read it.