DEFINITELY, MAYBE...OR LOVE, ACTUALLY?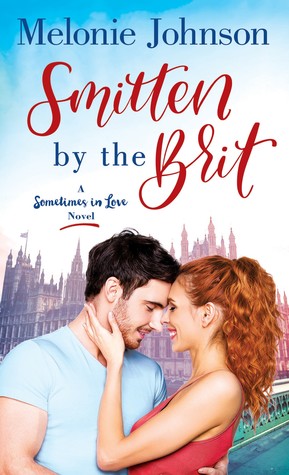 English professor Bonnie Blythe expects her life to play out like her favorite novels, especially now that her long-term boyfriend has finally proposed. So when a shocking discovery leads Bonnie to end her engagement, she decides to close the book on love. But the plot thickens when a brand-new character enters the scene—and quickens Bonnie's heart.
With his brilliant blue eyes, sexy accent, and irresistible charm, Theo Wharton is like a romantic hero straight out of a Jane Austen novel. When fate places Bonnie in England for a summer—conveniently close to Theo—she realizes a hot friends-with-benefits fling is exactly what she needs to start a fresh chapter. Just as Bonnie begins to believe she's falling in love, an eye-opening revelation into Theo's life makes Bonnie feel like she's wandered into one of her favorite books. Will Bonnie have the courage to risk her heart and turn the page with the dashing Brit to find her true happy ending after all?
*Thanks to NetGalley for this title*
So first off, I want to praise that cover because it was so nice to see a cover that actually fits what the characters look like! I'm tired of the people on the cover not looking a thing like what the book describes. So yay for that!
Bonnie has her whole life planned out, career, guy, how many kids, dance lessons and all that jazz. Though something goes very wrong when her man cheats on her. Her life is never going to be what she pictured and now all the stuff she pushed back while waiting for him to finish school.... well, she can do all that now. But there is someone who she can't seem to let go of... this sexy Brit she met last year. Will she decide to let him into her life?
Okay, this book for the most part was really cute. The characters were fun, and for the most of it, felt pretty real. There were a few scenes that we are going to talk about that really just bug the crap out of me but first to the good stuff. Theo is a golden gem, sweet, kind, and ready to give his whole life over to be the hero and save his family. Bonnie is a really great catch as well, she's smart, funny, and a bang up friend. If you're looking for a cute romance novel, then I really do like you'll like this one.
Now onto the stuff that just had me laughing and rolling my eyes, the group of girls in this novel are around 30. Our main girl has been sexually active since she was 18. Yet, she had to have her friend tell her how to give a blowjob. Not only that, she ran out of the room from Theo after she thought she messed up. Just left him there.... it seemed so stupid when they both could have talked it over. Instead, she runs off and he lets her. That's not how grown adults should act in this situation. That's more like teenagers. I mean I hate when a plot does that kind of thing when talking could fix everything. There was also the fact that she kept calling him a chauvinist in the beginning when he was just being nice. It really rubbed me the wrong way, I'm glad it was only in the beginning and things got better as it went.
This novel is not without it's problems but they are really my personal taste. Not everyone will have these problems, so don't let it stop you if you want to read this. Because the good out-weights the icky parts.