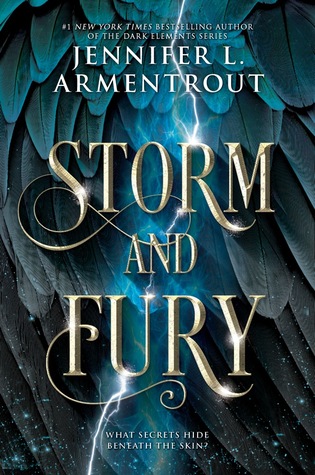 Eighteen-year-old Trinity Marrow may be going blind, but she can see and communicate with ghosts and spirits. Her unique gift is part of a secret so dangerous that she's been in hiding for years in an isolated compound fiercely guarded by Wardens—gargoyle shape-shifters who protect humankind from demons. If the demons discover the truth about Trinity, they'll devour her, flesh and bone, to enhance their own powers.
When Wardens from another clan arrive with disturbing reports that something out there is killing both demons and Wardens, Trinity's safe world implodes. Not the least because one of the outsiders is the most annoying and fascinating person she's ever met. Zayne has secrets of his own that will upend her world yet again—but working together becomes imperative once demons breach the compound and Trinity's secret comes to light. To save her family and maybe the world, she'll have to put her trust in Zayne. But all bets are off as a supernatural war is unleashed…
I received this ARC from NetGalley in exchange for an honest review. I read and reviewed this title voluntarily.
Okay, I will start off my saying that the original trilogy has a special place in my heart. It was the very first series that I ever read by Jennifer and it made me fall in love with her writing and characters. She's now one of my favorite authors. Not only was it the first titles I ever read by her but White Hot Kiss was the first book I ever reviewed on my blog. It made me want to start a blog to talk about this epic series and Roth.
So now that you know how much The Dark Elements mean to me, you'll know why I think this isn't as good but that in no way means it's bad. I enjoyed this novel! It was a little hard to get into but once it started, I just couldn't put it down! I love Trinity! She's badass, smart and not scared to jump into a fight. She's so strong and confident. She's also vulnerable because of her eyesight. I love how she doesn't let her condition get to her or stop her from living life. As someone who suffers with chronic pain, it's really nice to see someone still living a full life.
Zayne... I mean he's Zayne. I loved him in the first series and I still love him now, just not as much as Roth. He's still as awesome and protective as ever. I think he and Trinity work well together. I also love how this one isn't a love triangle but a forbidden romance so you can get a little bit of both awesome tropes from this series.
The writing is as awesome as ever. I mean, it's JLA, come on. You know it's good. The story moves at a good pace once it gets going. That's my only compliant, the beginning is so slow. It took me a while to get into the story. But once you make it through that first little bit, it's full of JLA goodness. I'm happy to be back in this world... even if we aren't following Roth and Layla. At least we do get to see them in here and that just made my little black heart so happy.
You also don't have to read the original series to read this one but I do fully suggest you do because otherwise, you're missing out on something fan-freaking-tastic! Overall, another really good JLA book.