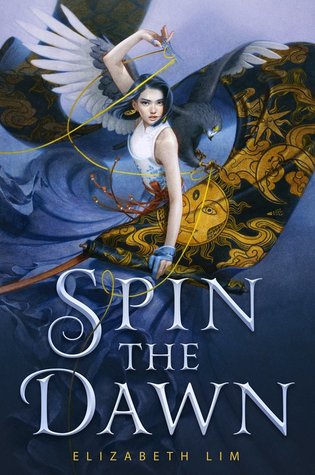 Project Runway meets Mulan in this sweeping YA fantasy about a young girl who poses as a boy to compete for the role of imperial tailor and embarks on an impossible journey to sew three magic dresses, from the sun, the moon, and the stars.
Maia Tamarin dreams of becoming the greatest tailor in the land, but as a girl, the best she can hope for is to marry well. When a royal messenger summons her ailing father, once a tailor of renown, to court, Maia poses as a boy and takes his place. She knows her life is forfeit if her secret is discovered, but she'll take that risk to achieve her dream and save her family from ruin. There's just one catch: Maia is one of twelve tailors vying for the job.
Backstabbing and lies run rampant as the tailors compete in challenges to prove their artistry and skill. Maia's task is further complicated when she draws the attention of the court magician, Edan, whose piercing eyes seem to see straight through her disguise.
And nothing could have prepared her for the final challenge: to sew three magic gowns for the emperor's reluctant bride-to-be, from the laughter of the sun, the tears of the moon, and the blood of stars. With this impossible task before her, she embarks on a journey to the far reaches of the kingdom, seeking the sun, the moon, and the stars, and finding more than she ever could have imagined.
Steeped in Chinese culture, sizzling with forbidden romance, and shimmering with magic, this young adult fantasy is pitch-perfect for fans of Sarah J. Maas or Renée Ahdieh.
Thanks to NetGalley for this title! I'm so freaking excited to dive into this story. Not going to lie, the cover plus the promise of Mulan just pulled me in.
Loved the writing, loved the characters! Now, I know this won't be the most popular thing to say but... I don't care about Project Runway. Yeah, I know. What pulled me into this novel was that stunning cover and the idea of a Mulan retelling because Mulan is one of my favorite Disney movies. I just love the story so much. I was not disappointed with this novel. Maia is an awesome character. She's smart and very talented. Not gonna lie, I even got into all the tailoring talk.
My only issue with this story is how it kind of feels like two in one. For the first part of the book we are in a totally different place than we are for the second half. Which is fine, just kind of throws you off for a second. I love the romance in this book, I will say that this book (as most YA books these days) is a bit progressive. So take from that what you will.
Overall, this is a fun story that will leave you wanting the sequel in your hands right now!