Merry Christmas! Or if you prefer Happy Holidays. I'm actually Pagan and celebrate Yule but I just always say Merry Christmas because I don't get offended by little things like someone saying Merry Christmas. But if you do then I just want to wish you a Merry December if Happy Holidays doesn't work for you either.
So I'm trying something new this year for the entire month of December I will only being reading 'Christmasy' books. I don't normally do TBRs because I'm a mood reader and by the time I get to the TBR I no longer am in the mood to read what I set out to read. I never want to force myself to read something that doesn't sound good to me, reading is something that makes me happy and I don't want to ruin that.
So I'm hoping this TBR goes the way I plan. I'm only going to list six books because I'm obsessed with the number six. If you didn't know that now you do. My partner likes to tease me about how weird I am when it comes to sixes but hey, it's another one of my many quirks that make me who I am.
Now, let's just get into this, shall we?
6) Twelve Days of Christmas
Friendly and bubbly, Julia Padden likes nearly everyone, but her standoffish neighbor, Cain Maddox, presents a particular challenge. No matter how hard she's tried to be nice, Cain rudely rebuffs her at every turn, preferring to keep to himself. But when Julia catches Cain stealing her newspaper from the lobby of their apartment building, that's the last straw. She's going to break through Cain's Scrooge-like exterior the only way she knows how: by killing him with kindness.
To track her progress, Julia starts a blog called The Twelve Days of Christmas. Her first attempts to humanize Cain are far from successful. Julia brings him homemade Christmas treats and the disagreeable grinch won't even accept them. Meanwhile, Julie's blog becomes an online sensation, as an astonishing number of people start following her adventures. Julia continues to find ways to express kindness and, little by little, chips away at Cain's gruff façade to reveal the caring man underneath. Unbelievably, Julia feels herself falling for Cain—and she suspects that he may be falling for her as well. But as the popularity of her blog continues to grow, Julia must decide if telling Cain the truth about having chronicled their relationship to the rest of the world is worth risking their chance at love.
5) Their Yuletide Promise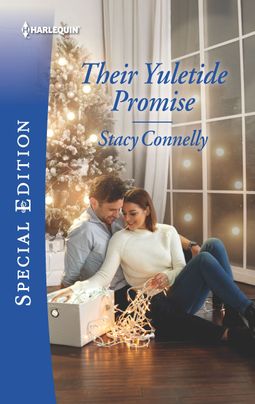 Evie's life is all work.
Until she invites Griffin to play!
Workaholic Evie McClaren will do anything to prevent the sale of her family's hotel. Even fake a holiday romance! Wealthy charmer—and prospective buyer—Griffin James seems delighted to play along…providing steamy, realistic PDAs under the mistletoe. Wait. Was that last kiss real? All Evie wants for Christmas is the Hillcrest House Hotel. And all Griffin wants…is Evie by his side—for real.
4) Tangled Up in Christmas
I might be a country girl from the same small town of Sweetwater, Texas, as horse wrangler Roarke Frost, the girl next door who knows him like few know him, but I didn't know enough to save my heart.
He's the reason why I left Sweetwater behind.
But now fate proves she loves a wicked twist and sends me back to Sweetwater to pull together a Christmas festival—and I run smack into the man again, quite literally. His body is pressed to mine, his hands on my arms, and I'm melting like chocolate in the sizzling Texas sunshine. And I run.
I know it's not exactly respectable, but it works, just not for long. No matter how much I try to get tangled up in Christmas, I end up tangled up in Roarke instead—and the man has me feeling the heat of our attraction and the warmth of our past friendship. He feels like Mr. Right, but history says he's Mr. Wrong.
But if he wants a second chance, Roarke Frost is going to have to work for it. He'll need to prove to me that this holiday is a season of new beginnings, the kind that last forever.
3) Merry Me at Christmas
To bridal boutique owner Madeline Krug, organizing a Christmas wedding sounds like a joy—until she finds out she'll be working closely with the gorgeous brother of the bride, movie star Jonny Blaze. How will a small-town girl like her keep from falling for the world's sexiest guy? Especially with mistletoe lurking around every corner!
Jonny came to Fool's Gold looking for normal, not for love. Happily-ever-after only happens in the movies. Still, nothing about this quirky town is quite what he expected, and "ordinary" Madeline is the most extraordinary woman he's ever met. Refreshingly honest, disarmingly sweet. Achingly beautiful.
Planning the perfect wedding leads to candlelit dinners and strolls through snow-covered streets. And Madeline finds Jonny in real life even more captivating than her celebrity crush. But will the action star be brave enough to risk his heart and step into the role of a lifetime?
2) The Christmas Knight
Her Only Hope For The Season
With their father gone this Christmastide, Bronwyn de Breton and her two younger sisters are utterly vulnerable at unprotected Hunswick Castle. And their troubles are compounded when a fearsome knight arrives on the king's orders to take Hunswick as his own—and the youngest de Breton daughter as his wife.
Is A Man She's Never Met
Bronwyn would never let her little sister be forced to marry a man as rough and wild as the new lord is whispered to be. Yet someone must form an alliance with him, or all of Hunswick will be at risk. So she steps forward, pretending to be her own sister.
And A Love She Never Expected
But the new lord is not so easily fooled. He knows Bronwyn is not the woman he has promised to marry. And yet, no matter how duty-bound he may be, there is no resisting the golden-haired beauty who so fearlessly gives herself to him...and awakens a passion unlike any he's ever known.
1) Sleigh Bells in the Snow
Once upon a time Kayla loved Christmas
Now she's more dedicated to her job than decking the halls, and can't wait for the 'most wonderful time of the year' to be over.
Until she arrives at the enchanting Snow Crystal ski resort, determined to win gorgeous owner Jackson as a marketing client.
But wooing Jackson professionally quickly turns personal as they spend flirty festive nights in this glittering winter wonderland.
With snowflakes swirling and sleigh bells ringing…could Jackson be the one to make Kayla fall back under the Christmas spell?