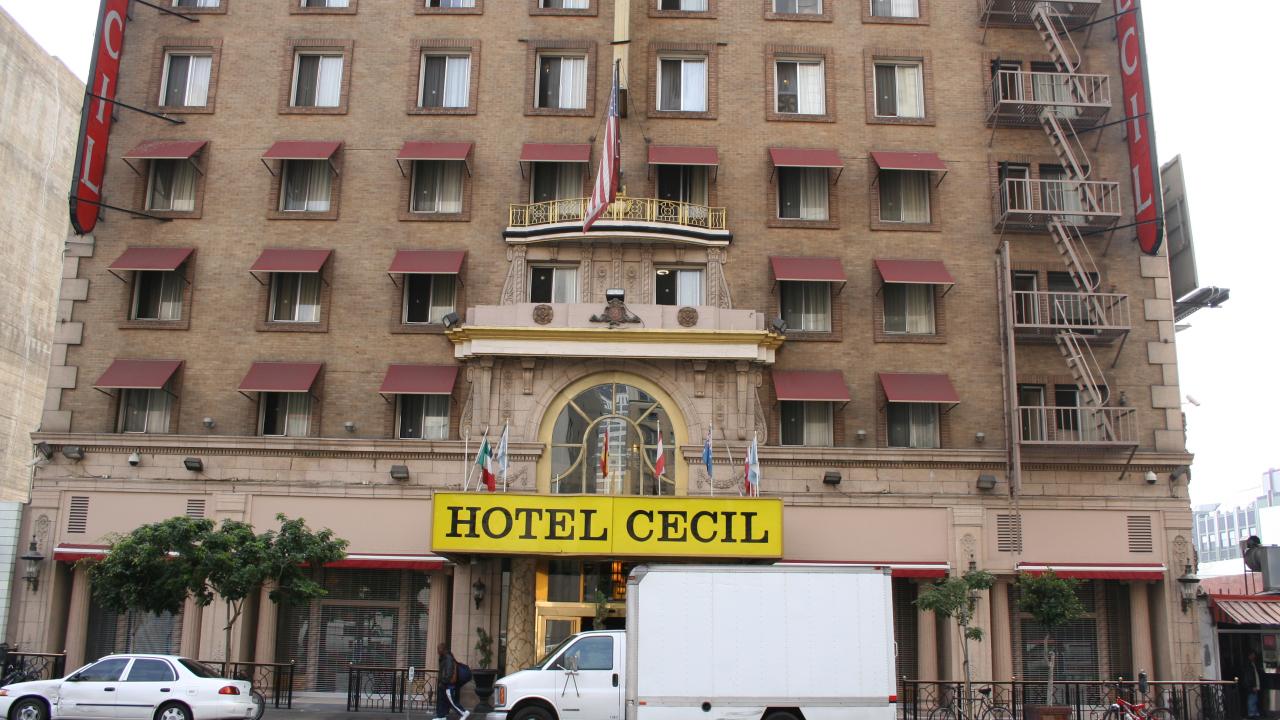 If there ever was a place where dreams went to die, it's this place. Countless suicides, deaths, and just strange behavior that takes over the guests - this place has it all. Welcome to the Cecil Hotel, where you can check in but no promises that you'll check out...
Now, I've seen two different dates about when this hotel finally opened - 1924 or 1927 - I'm inclined to believe it was 1924 because it lines up with the first death in the hotel which took place January 22nd, 1927. Plus, Wikipedia and the Netflix series also say it's 1927.
During this time, Los Angles was booming! So what better than a hotel with 700 rooms. At the time it cost around 1 million dollars to build and opened its door right before Christmas in 1924. The hotel was stunning! Marble lobby, huge columns with tall ceilings. Even today the lobby is still lovely. The only part of the hotel that's worth anything.
Everyone felt that life was the best it could be during this time, so much growth was happening in LA but sadly on January 22nd, 1927, the long line of darkness at the Cecil would begin. It was this year that a 52-year-old man named Percy Ormond Cook took his own life in this hotel room. He decided to end his life after he could not make up with his wife and child.
Cook was a wealthy man who had a son in Harvard. This clip doesn't say he and his wife were fighting but it does state that he was very lonely and just couldn't take it anymore. He's spent a week just trying to work up the courage to do the deed. He left letters behind for his wife and the press.
This is the first documented suicide at the hotel but it's not the last. The Great Depression came just two years later and hopes for the hotel fell flat. No one had any money to live let alone travel. But despite this guests stayed at the Cecil during the '30s, the hotel saw more deaths.
In fact, in 1931 on November 19th, a man named W. K. Norton checked into the hotel under an alias, James Willys from Chicago. He stayed there a week before he ingested poison capsules that police found in his vest. The only reason they could identify him was by the checks made out to Mrs. M. C. Norton.
He was only 46 and is said to have been found by a maid not long after he's passed away. It makes you wonder just what was going on in his life.
In the fall of 1932, not even a year later, 25 year old, Benjamin Dodich was found dead in his room, a gunshot wound to the head.
Summer 1934, finds another death. Former Army Medical Corps Sgt. Borden was found dead in his room. He slashed his throat with a razor. Borden left several notes, one of which claimed poor health as the reason for his choice.
Three more deaths followed in the '30s. All of which are considered suicides. I think because it was during the Great Depression it made sense, lots of people killed themselves but the list just keeps getting longer and longer. But during the 1940s, the hotel was at its prime. It was actually performing how everyone hoped it would. Though during this time is when LA started to push its more 'seedy' characters to what is now known as Skid Row. Homeless, having nowhere to go will pitch tents and live here. The Netflix docuseries said that police will line up to keep these people from leaving the area. This is also the place where they drop off people who've been released from mental health hospitals and those that just got out of jail or prison.
So just because the hotel was doing well, did not mean that darkness wasn't still lurking. We start 1940, January, with the death of Dorothy Seger who also ingested poison. It seemed there would be no slowing down for this hotel.
One of the worst cases at this hotel was the story of Dorothy Purcell. In the fall of 1944, she and her boyfriend, Ben Levine. They checked into the hotel together. He had no idea that she was pregnant at this time. One night, she went into labor and because the 19-year-old didn't want to disturb her 38-year-old boyfriend, she gave birth in the bathroom while he slept.
I have no idea how she had the baby without waking him up. Childbirth is not usually something that is done quietly. But after giving birth she thought the child was stillborn. So rather than tell her boyfriend, she tossed the poor baby out the window.
Turns out, the baby was alive and she'd killed him when she threw him out the window. She was charged with murder but released because of temporary insanity.
I have two theories for this one. Either the young girl was a mistress and the man wanted no children or it was because the baby was out of wedlock.
The seventh floor of the hotel is where our next two victims stayed before leaping to their demise. One landing right on the marquee below. The fifties come and go with only one death but the sixties are right back at it again.
One death was simply because a man had been at the wrong place at the wrong time. Pauline Otton was a young woman who was fighting with her husband. Once he left he left the room, she jumped and landed on poor George Gianinni. They both died instantly.
I'll never walk under a window the same way again. Watch your step suddenly as a whole new meaning.
The worst murder at the Cecil took place in summer 1964. Goldie Osgood known as Pigeon Goldie was well known around this part of town, it was how she'd gotten her nickname because she loved to feed the pigeons that she'd come across. Everyone loved her. They say she was a sweet woman, a retired telephone operator.
She was found in her ransacked room dead. She'd been raped, beaten, and stabbed. By her body was lots of birdseed and an LA Dodgers hat that she often wore. Her case remains unsolved.
Some people are just so sick. I could never imagine killing someone, let alone someone that nice.
The '70s saw only one documented death, a woman that had fallen from a window. The '80s had no documented deaths but something far worse. The Night Stalker or Richard Ramirez killed at least 15 people and kidnapped little kids to molest them in the mid-'80s. He was brutal in the way he killed some of his victims. What's this got to do with the Cecil?
Richard lived there during some of these murders. They say he did his satanic rituals in his room at the hotel. He even left his bloody clothes outside in the alley outside the hotel after coming back from committing murder at one point.
The nineties also only saw one documented death but yet another serial killer. Jack Unterweger. He had a history before he even came to LA. In his own country of Austria, Jack had strangled a woman with her bra and was sentenced to life in prison. But he became such a model inmate that they decided to release him.
And wouldn't you know, the killings started up again but he was something of a minor celebrity. Plus, he left the country before anything solid could be found to make another case. Jack went to LA to do a piece on prostitution. The local police even took him on a tour of the LA scene not knowing what was going to happen.
Jack stayed at the Cecil will he stayed in LA and ended up killing three women. In 1992, he was arrested and sent back to his home country.
Things got pretty quiet after that. Maybe the darkness that plagued the Cecil was finally over. Not a single death was documented in the 2000s. Even the 2010s started alright until February 2013. Elisa Lam stayed at the Cecil. She was found dead in the water tank on the roof after having been missing for a while.
This case still has theories on what could've happened. My partner thinks it was her mental health. I honestly wouldn't be surprised if something evil did live in that hotel and went after Elisa because it thought she would be an easy target. No matter the reason, it's tragic. So many lives were lost in this place.
There's one last case, this has never actually been confirmed. June 13, 2015, the body of a young man was found on the ground outside the hotel. I couldn't find his name and his cause of death as I found was not released. Some think he jumped from the building which wouldn't be that hard to believe but I guess we'll never know for sure.
The hotel was finally closed in 2017 when it was sold. The new owner wants to turn half of it into low-income housing and the other part into a luxury hotel. He wants to put a bar and wading pool on the roof.
Maybe the Cecil will flourish after the remodel/rebrand. Maybe nothing else terrible will happen and this hotel can move into a better light. But I can't help to wonder if the darkness from the past will find its way into the present...